Review: War Horse (National Theatre)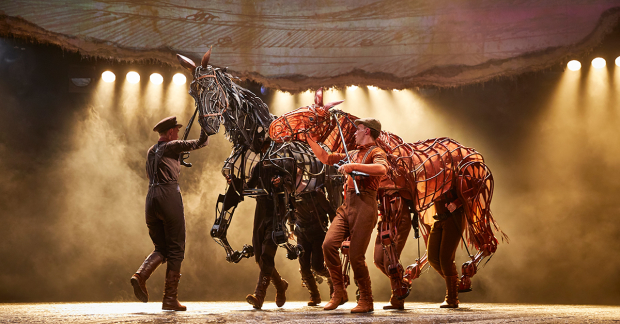 The return of War Horse to the National Theatre takes a deserving place among the many events of 2018 commemorating the centenary of the First World War.
Based on the novel by Michael Morpurgo, the former Children's Laureate, and adapted by Nick Stafford, the production premiered at the Olivier theatre back in 2007, and has been playing and touring in the UK and around the world more or less ever since.
It's a deeply moving story about the love between a boy, Albert Narracott, and Joey, a young horse bought by Albert's dad with the mortgage money in a fit of drunken bravado.
In 1914, Joey is sold to the army as a war horse, and is quickly followed to the filth and misery of northern France by runaway Albert, who's determined that they will be reunited.
It's the sort of tale that ought to be virtually impossible to tell on stage, but along with its compelling storytelling, Marianne Elliott and Tom Morris' production features the magnificent work of the Handspring Puppet Company.
Life size horses, each operated by three visible puppeteers, quickly become as real to the audience as if they were clip-clopping across the stage straight from the stable. The precision and minutely judged movements and sounds created by these performers is simply beautiful, and seizes the undivided attention of even the most restless youngsters in the auditorium. They are designed and made by Basil Jones and Adrian Kohler.
The production also features puppet birds, from the swallows in the blissful summer skies of home, and the cheeky goose (operated by Billy Irving) who's determined to get into the farmhouse, to the sinister crows that descend to feast on the carcasses on the battlefields.
Rae Smith's design (winner of Olivier and Tony awards) is also integral to the show's success. She builds the context and atmosphere through a sheet torn from a sketchbook, which translates into a huge 25m projection screen above the stage. Here we see drawings of landscapes, clouds, stormy seas and galloping horses, with the projections taking on a brutal cruelty (inspired by the contemporary Vorticism art movement) as shells rain down on the battlefields.
Albert is played with charm and sensitivity by Thomas Dennis, going from the eager lad who loves his mum (a robust Jo Castleton) to battle-scarred soldier.
He leads a great ensemble cast, with strong performances from Jasper William Cartwright as terrified recruit Billy Narracott, Ben Ingles as Lieutenant Nicholls and Toyin Omari-Kinch as Albert's comrade David Taylor, a joker to the bitter end.
Many children have been learning about the First World War in school this year. To understand something of its true impact on the lives of people – and horses – this is the play to bring them to.