Oldham University students tour Lost Boy Racer to Lowry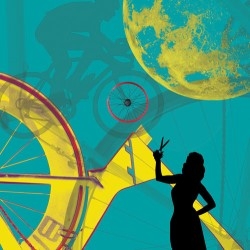 Students on the Foundation Degree in Performance at University Campus Oldham (UCO) will work with professional actors to develop a new theatre piece Lost Boy Racer, forming part of the cultural highlights celebrating the Tour de France's ride through Yorkshire.
The play will be created in residency at UCO with Julie Bokowiec, the writer and producer who will work with the students in April and rehearse with them in June.
Lost Boy Racer is a partnership production with the Lawrence Batley Theatre, Huddersfield where the world premiere takes place on 25 June before travelling to The Lowry (28 – 29 June), Harrogate Theatre (2 – 4 July) and Theatre Royal Wakefield ( 7 – 8 July). UCO students will be the supporting cast for two performances at The Lowry whilst the other theatres on the tour will recruit for a local supporting cast.
UCO Senior Lecturer in Performance, Tray Wilson said, "This creative partnership will provide a great experience for our students. We limit our course to small student numbers which enables us to foster and nurture a strong ensemble of performers. It's fantastic that they will be involved both in the creation of a world premiere production with such an exciting creative team on our campus, as well as perform on stage at The Lowry.
Lost Boy Racer is described a quirky northern comedy-drama with a touch of blood, sweat and tears, a large dose of fun, some off-the-wall bike action and a love story of sorts. It tells the story of Sean Racer, who used to be an energetic wildcat youth hooked on cycling. Now he's an overweight, 40-something tax inspector on the brink of a personal crisis. Sean hatches a plan to get his life back on track and on two wheels. He will fulfil a youthful dream; to ride the Tour de France.