Did Strictly Ballroom score top marks with critics?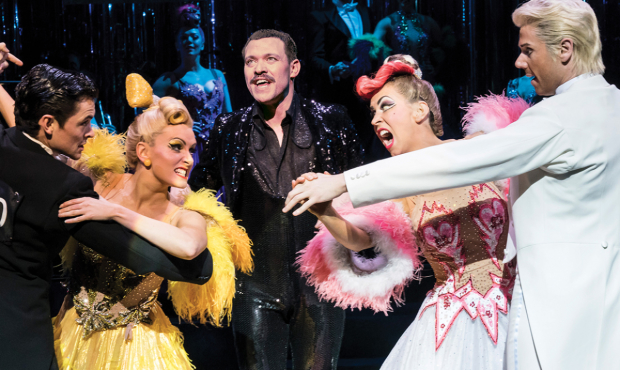 ★★★★
"All the songs are sung by Will Young, playing Wally Strand, "the loose-hipped legend of the Sydney ballroom", who presides over the action in a black, sparkly catsuit, like a moustached fairy godmother. His benign, slightly sardonic presence is a boon: constantly onstage, twining himself in and out of the action, he provides scene-setting, barbed comments on character and emotional explanations."
"It is only when Zizi Strallen's wonderfully rounded Fran is on the scene that the story really takes flight. Fortunately, she is around quite a lot as Scott reluctantly takes her on, takes off her glasses, and discovers she is a star. Her yielding gentleness, her gradual journey from clumsiness to confidence is beautifully and tenderly charted by Strallen, who also dances like a dream. As Scott, Labey, best known from EastEnders and the ITV dance competition Dance Dance Dance, has bags of charm and energy, although he isn't perhaps as sensational a dancer as his character is supposed to be."
"As it is, the undoubted highlight is the first act finale, when Fernando Mira as Fran's father Rico shows Scott exactly the passion required to dance a real Paso Doble. He brings the house down, reminding everyone of the power of dance to ignite emotion."
★★
"I have no problems with a Cinderella story, and Jonny Labey as Scott and Zizi Strallen as Fran are lithe, beguiling dancers. While Drew McOnie choreographs well, it is a sign of the coarseness of his production that Strallen is forced to react to a kiss from Scott with the wide-eyed astonishment of someone who has spent her life in a nunnery."
"It does, however, yield the moment of ecstasy I look for in a musical. That comes when Fran's father teaches Scott the paso doble. Fernando Mira, with his poker back, drumming heels and economy of movement, gives us a masterclass in Spanish dance and, unwittingly, upends the show's thesis by proving the value of disciplined tradition."
"It is a sign of the show's lazy liberalism that the dance federation's tradition-worshipping president, played by Gerard Horan in an orange wig, declares: "Maybe I'll go into politics." Since Donald Trump has got where he is by breaking all the rules, the joke makes little sense and symbolises the production's benign vulgarity."
★★★
"In theory, it's super-logical to turn a story that includes more than its fair share of camp flouncing about in tight sequinned costumes into a musical. Disappointingly it proves a less than seamless transition, involving the creation of a new character, singer Wally Strand (Will Young). Wally acts as our de facto narrator, in between crooning snatches of popular songs. This piecemeal approach distances us from the central couple and also means that no one number fully lets rip, although the first half finale of Habanera from Carmen showcases the dancing at its finest."
"There's an enervating sense of a thin storyline eked out too far, especially since the Scott/Fran pairing never has us fully aflame. The best news, by far, is Strallen, who exudes a lightness and brightness even when a mere face in the dance studio crowd early on. Her acting and dancing is impeccable."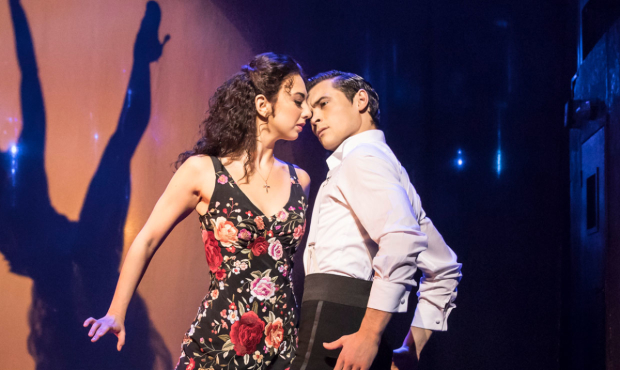 ★★
"The thing is, it's not strictly a musical. Yes, there are a few songs, almost all pre-existing, from Sting to David Bowie. The rest of the time the band plays orchestral pieces. But given that the orchestrations are by Simon Hale, who was responsible for the stunning versions of Bob Dylan's music in Girl From the North Country, and arrangements by Marius de Vries, who scored Romeo + Juliet and was the musical director on Moulin Rouge!, this is one of the best sounding bands in the West End.
"To begin with, Strallen overdoes it as Fran, acne-pocked and wearing oversized glasses. When she is in loser mode, before her transformation into the sort of non-glasses-wearing heroine we can all really root for, Strallen doesn't quite find the character's humanity. But she settles into it and becomes a warm focal point for the show. Labey's Scott, however, is a bit smug, and so a bit unendearing – though he is a fabulous dancer.
The trouble is the show doesn't heed its own message: that ballroom dancing is about more than just slickness and flash. And we've seen this kind of story so many times before – from Billy Elliot to Footloose and Kinky Boots, even Cinderella – we need something more.
★★★★
"Established musical theatre star Zizi Strallen makes her mark with a lovable vein of physical comedy, trembling with suppressed passion and morphing from stiff puppet to expert dancer. But Jonny Labey is less convincing as her maverick idol-turned-squeeze Scott, and the pair's romance suffers from the fact that they never actually sing together, in a slightly baffling waste of Strallen's talents."
"The stage is flooded with couples wearing costume designer Catherine Martin's masterful get-ups: each tinted a different rainbow hue, shimmering with sequins and gently vibrating ostrich feathers. The dancers' smiles are as fixed and cartoonishly wide as a troupe of leaping dolphins. And their physical skills tip over into the narrative scenes. Adapted by Craig Pearce, the text cleaves pretty tightly to Luhrmann's original, but the comic performances are dialled up to 11: Scott's spurned former dance partner Liz (a memorably funny Lauren Stroud) expresses her grief at the volume and pitch of an air-raid siren."
★★
"Young is gorgeous on the ballads, less distinctive when a song needs more edge, such as on Billy Idol's "Dancing With Myself". Labey is a strong, sinewy presence as Scott; Zizi Strallen is lively as his not conventionally beautiful (until she takes off glasses the size of Queensland) new dancing partner, Fran."
"The best scene, by a mile, is one that dares to spend some time on a simple idea: Fran's suspicious Spanish dad Rico (Fernando Mira) shows Scott what a real Paso Doble looks like. And his impassioned one-man masterclass sprouts into a full-on production number. Glorious.
"The story gathers momentum as it heads to its finale. Yet while you can feel the love and dance stories joining their hips with technical efficiency at the end, it never goes beneath anyone's skin, never shows any real passion. Some persuasive moments, but overall it's strictly so-so."
★★★
"Although arriving from Australia via the West Yorkshire Playhouse, it feels small in the West End.
"Young sings beautifully but is underemployed by the 1980s pop-medley score. Strallen is excellent as the blossoming Fran and the lantern-jawed, athletic Labey is also very good, if you enjoy dance as an Olympic sport.
For me, only Fernando Mira as Fran's pasodoble-dancing dad has the moves to justify the price of a ticket. But then I admit I'm probably not ballroom dancing's greatest fan, strictly speaking."