Review: Why is the Sky Blue? (Southwark Playhouse)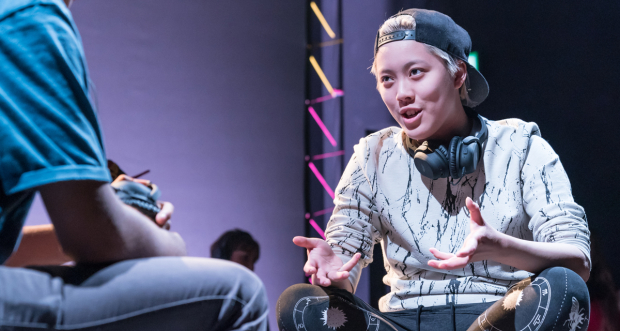 Over 10,000 young people were interviewed as part of an exhaustive process by collaborators Abbey Wright, Shireen Mula, and Matt Regan for Tackroom Theatre, with questions of love, connection and the internet posed to pre-teens, teenagers and young adults up and down the country. The aim – to find out what young people actually think about one of the most 'inappropriate' phenomena on the internet – pornography.
Tackroom have chosen a fascinating subject matter for their 85-minute verbatim play with songs. Pornography is an all-encompassing topic – it can reflect questions of race, gender, sexuality or social awareness. But in Why Is the Sky Blue? the content isn't simply created from the responses of youngsters, but also delivered by a cast of young performers aged between six and 22. It's a diverse, intriguing way of shaping the debate and allowing those affected by the subject matter to lend their own voices to proceedings – particularly for something so rarely discussed openly. It feels, rightly, incredibly pertinent.
Because pornography is, for many youngsters, their first experience with their sexuality. In an era when it's pretty much freely accessible online ("It's like buying chicken and chips, except I have to pay for chicken and chips") and a young person can have the world at their fingertips, it's hard to argue that there's no debate to be had. What Wright's direction does is, for the most part, allow the various nuances and ideas to rise and fall between a variety of musical numbers introduced by the cast – different youngsters come forward and present songs, spoken word passages or come out and interact with the audience.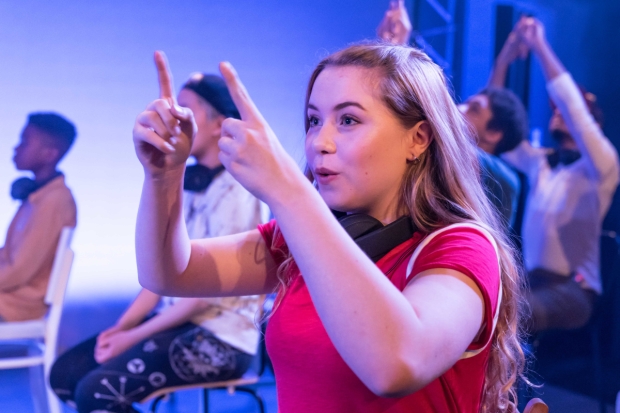 There are, of course, easy comparisons to make with London Road, but the piece feels remarkably fresh. One song, "Porn is for Men" (an earworm, me and my companion were humming well after the show had ended), is a revealing reflection on how often pornography is actively created for the male gaze – shot predominantly by men, with even lesbian porn often only used for male gratification. For young women, the piece shows, being told that depictions of sexuality have to come from a male perspective is at best frustrating, at worst a way of entrenching stereotypes. Sex, they feel from a young age, is not presented on their terms.
The scale of the research involved pays off splendidly, and the piece piles up a variety of viewpoints and ideas that resonate with contemporary discussions – transgender actor Zachary, for instance, while acknowledging the problematic presentation of trans pornography and the fetishisation of different ethnicities, says that watching such content online was important for affirming his own gender-fluid identity.
Designer James Turner places the cast of 13 (and a solo pianist) on a variety of primary coloured chairs, brightly and spritely rearranged after each scene or song as the debate unfurls and the themes change. It's simple, aided by the gradual fades of Elliot Griggs' supple lighting design.
Why is the Sky Blue? makes for a relaxingly revelatory evening, one that slowly reshapes a stigma many rarely put under the microscope. The queasiness, our sense of "inappropriateness" at seeing young people talk about penis size or their favourite porn search terms, is a startlingly original sensation. It proves Tackroom's point – our own unease isn't helping anyone, especially not a generation far closer to sexual content than any that came before.