Review: The Other Place (Park Theatre)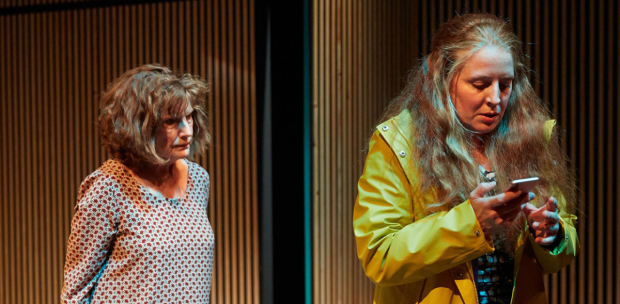 Sharr White's The Other Place, about a businesswoman confronting the onset of dementia and trying to make sense of her reality, had a star turn from Laurie Metcalf when it first premiered in 2011, bagging a Tony Award nomination when the show ran on Broadway. It now comes to the UK for the first time directed by the multi-award winning director Claire van Kampen, with Karen Archer taking on the central role.
It's a disorientating yet smart piece – beginning with the high-flyer Juliana delivering keynote speech about dementia-inhibiting drugs and imagining a bikini-clad audience member sat in front of her, before jumping into the middle of a messy divorce (her spouse being delicately played by Neil McCaul) and a war with an estranged daughter (one of the three roles given to a solid Eliza Collings). To throw extra complications into the mix, we slowly come to realise Juliana's experiences may be more fictitious than originally expected.
After directing what was an uneven Othello at Shakespeare's Globe, van Kampen is on fine form here, slickly hopping from scenes spanning the full length of Juliana's consciousness. Real and imagined events cohabit the same blank canvas on Jonathan Fensom's wood panelled stage, always ambiguous yet never frustrating. Chronology is thrown out the window as events slowly come into focus.
White's script plays to its strengths well in the first half or so, chock full of half-truths and fleet bursts of dialogue that construct some intelligent, enlightening insights into the nature of the illness. It's helped by a brilliant central performance by Archer, always trying to mask the symptoms of her condition, while being standoffish enough to bark out a cavalcade of sharp and witty lines. It's charged, watching someone desperately trying to improvise their way through life with only a set of half truths to go by.
The plot slides from accomplished stagecraft to slight melodrama though as the 75-minute runtime progresses, and the piece loses a lot of its complexity and tantalising obscurity. A sudden infantilisation (with Juliana nibbling away at noodles while curled up on the floor) in the penultimate scene doesn't really land, and a bucket-load of shock-twists (spied from a mile away, sadly) don't say anything significant about dementia or the mental condition. An opportunity missed for a well-wrought production that has a large amount going for it.