Review: Rosmersholm (Duke of York's Theatre)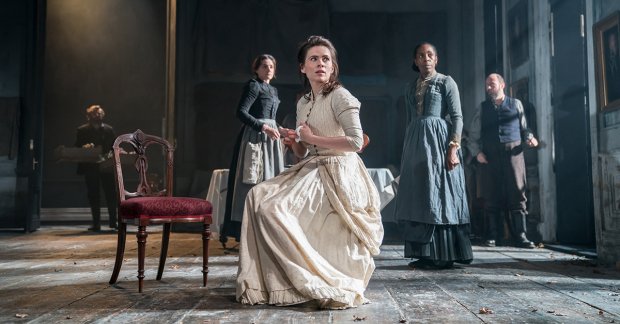 "You see, this is what happens when the general public becomes engaged in politics – they get duped into voting against their own interests." As Governor Kroll, the ambitious patrician politician says these words in this production of Rosmersholm, an ironic rumble runs around the audience.
Ibsen may have written this play in 1886, worried about developments in the political life of his native Norway, but its fiercely anxious examination of the need for value in public life, the purpose of politics and the importance of female emancipation speak pretty loudly, in Duncan Macmillan's ritzy, punchy translation, in the age of Brexit and Trump.
It's rarely performed though, perhaps because its arguments have a tendency to go round in circles and perhaps because modern audiences have some difficulties understanding the self-denial and shame at the root of the relationship between Pastor Rosmer, a man who has lost his faith, and his house guest Rebecca West, companion of his wife Beth, Kroll's sister, who has drowned herself just a year before the action starts.
Director Ian Rickson unpicks the dynamics between this central trio with forensic clarity and an almost dreamlike fervour and he's helped by performances from Hayley Atwell, Tom Burke and Giles Terera that dig deep into their tortured motivations. The metaphorical as well as real nature of the tensions between them is made explicit at the very start when Rebecca brings back to life a dusty room in the Pastor's ancestral home Rosmerholm, stripping dust sheets from the furniture and flinging open the window to let in the light.
Designer Rae Smith makes the setting a participant in the action, with its vast echoing spaces, peeling walls from which the portraits of Rosmer's ancestors gaze down like so many accusing fingers. ("Rosmer children never cry, the adults never laugh," says the housekeeper, dourly). Lighting designer Neil Austin fills the room with the kind of light that moves from chilly morning, to radiant, golden afternoon to final darkness.
What unfolds in this compelling space is a battle of ideals, a series of discussions about democracy and liberty, about responsibility and freedom, and the power of the press. Above all, the characters grapple with morality, with what actually constitutes right and wrong and who judges the difference. It's very wordy, quite heavy, but enlivened by the passion of the playing.
Rebecca West (the novelist Cicily Isabel Fairfield took her name from the character) is a proto-feminist heroine, a spur to action, a voice of change. But she is also desperately in love with Rosmer, even if neither of them is very keen to acknowledge it. Atwell makes her a powerful force to be reckoned with, her eyes flashing expressively. She arches her back and fidgets as if anxious to escape the ties that bind her. There's a wonderful early scene where Kroll demands the Pastor say grace over a meal of fermented trout; Burke does so, while never taking his eyes off Atwell, who rebelliously refuses to join in.
As Rosmer, Burke conveys a man torn by conflicting emotions and desires, desperate to find joy, to put an end to the rage and dissent he sees around him, but unable to find his purpose and his path through life. It's a powerfully inward performance, broken by moments of passion. The moment where he suddenly cries "I want my God back," is suddenly and unexpectedly moving. Terera too finds the currents lurking beneath the surface of Kroll's sleek certainty as well as his contempt for change.
There are also brilliant interventions from Lucy Briers, as the housekeeper who sees everything and says nothing, and Peter Wight who makes his two scenes as Rosmer's revolutionary teacher, now fallen on hard times and undone by his sudden realisation that he has nothing to say, seem utterly vital and trenchant.
The detail of the playing and the flair of the staging – the ending is as brilliant as it is shocking – make a strong case for this play and its heady mix of sex and politics. It doesn't quite convince me that it is one of Ibsen's masterpieces, but it is certainly good to have it back on stage.