Review: Ghosts (Royal and Derngate)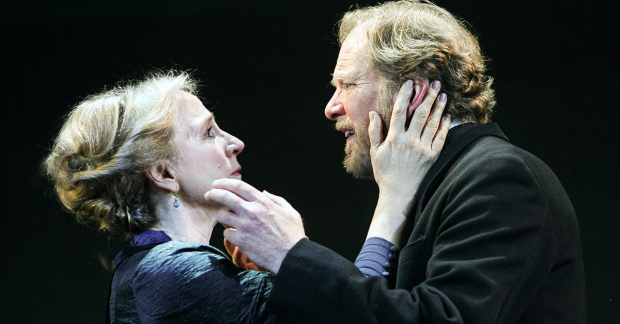 There's a hilarious quotation in the programme for this new production of Ibsen's play, culled from the Daily Herald's contemporaneous review of the first London production in 1891: "It is dull, it is undramatic, its subject is revolting."
Director Lucy Bailey, together with her A-list creative team and superb ensemble, have addressed every one of those criticisms. In Northampton in 2019, it is gripping, it is a thrill ride, its subject is utterly compelling.
Of course, the shortcomings in 1891 were much more on the part of the Daily Herald's reviewer than that of the great Norwegian playwright who, with the benefit of hindsight, was far ahead of his time in terms of his psychoanalytical approach to his characters and their concealed motivations. But the fact the raw material is just so electrifying does nothing to detract from the skill and impact of this version.
Scripted by veteran adapter Mike Poulton – who claims to have been working on it for 25 years on and off – it's nothing less than a suspense cliffhanger par excellence, with twists and turns galore and devastating revelations by the bucketload. Ibsen is sometimes accused of being slow, gloomy and unduly expository, but in Poulton's deft care he emerges as a natural thriller writer.
Bailey's directorial hand means the action ploughs a momentum-filled furrow across two-and-a-half pacy hours. The light-and-shade contrast so integral to Ibsen's notions of sanity and creativity are reflected in the well-structured scenes and moments, reinforced throughout by Oliver Fenwick's effective lighting.
Mike Britton's impressive design, meanwhile, compresses everything into a claustrophobic box of a room, with doors, corridors and other rooms suggested or half-visible through a network of transparent walls. The whole thing is encased in a rotting verdigris hue and incessant rainfall that implies we're almost submerged in some kind of emotional shipwreck. And that's without even mentioning the wonderful coup de théatre that frames the final act of Ibsen's tragedy.
At the heart of this tale of a disintegrating family stranded among the remote fjords is the towering performance of Penny Downie as Mrs Alving. Harbouring more secrets than an MI5 convention, her personal struggle with the past, the future and society's morals – in the personified form of the clergyman Pastor Manders – provides the stunning, tender and heart-wrenching engine for Ibsen's action. She is constantly mesmerising.
James Wilby's Manders has the makings of an extremely fine portrayal. Still slightly insecure on press night, Wilby looks on the point of delivering a powerful, plausible priest battling with his own inner demons. Pierro Niel-Mee as Mrs Alving's angst-ridden son Osvald offers a strong foil to push his mother into territory she'd rather not visit, while Declan Conlon and Eleanor McLoughlin provide excellent support as the father and daughter whose interaction at the periphery of the Alving family prompts much of the narrative drive.
Yet again, Royal and Derngate has delivered a top-notch production of a classic, teeming with class and drama. That it runs for only three weeks is itself a bit of a tragedy.