Review: Eugenius! (The Other Palace)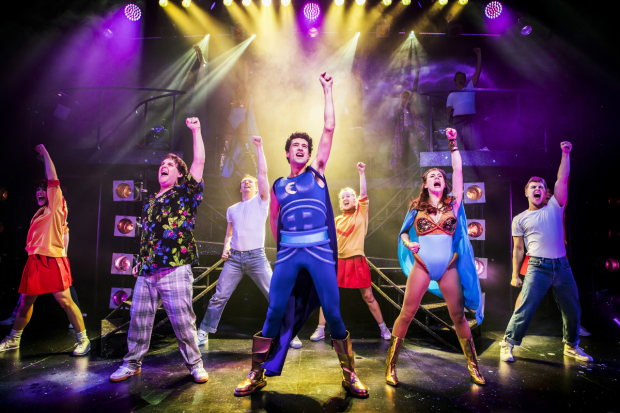 Eugene is a fully paid-up geek. He has the name, the delicate physicality and the obsessive nature that mark him out as a punchbag for the school jocks. But he also has a genius for writing and drawing comic book stories, and before he knows it, Hollywood comes calling.
And that, of course, is where the trouble starts.
This new musical by Ben Adams and Chris Wilkins taps into the youthful, optimistic sound of the 1980s – there's even a song that includes the lyric 'The Eye of the Tiger'. The result is an energetic, mile-a-minute show from director Ian Talbot that urges us all to find the hero within ourselves.
As a former chorister and member of successful boyband A1, composer Ben Adams has plenty of musical form to draw on. He knows how to craft a hummable hit tune, having written for Alexandra Burke and Craig David.
Much of the music is genuinely engaging, with a crisp live band led by musical director Darren Lord. The main theme "Go Eugenius" is a brilliantly catchy, uplifting number performed with a simple but effective air-punching dance routine, choreographed by Aaron Renfree.
However, there are times when the script struggles to make sense of a complicated plot that mixes comic-book fantasy with reality and sees the two collide.
We're also deep in the unreconstructed 1980s. And rather like the backlash against the Netflix re-runs of Friends, which now appear chock-full of sexist, homophobic and body-shaming jokes, this show has too many uncomfortable moments, with laddish references to women's breasts and bodies. Perhaps Super Hot Lady (Melissa James) could have an anachronistic #TimesUp moment to even the score. Some lines simply need to go, in particular the threat from Lord Hector to beat someone up as if he were a 'red-haired stepchild'.
But there is plenty to enjoy too. Geeky Eugene is played with a vulnerable charm by Liam Forde, whose voice communicates the frustrations and sadness of a boy who's lost his mother, longs for recognition from his father, and simply can't see that the girl of his dreams is already in love with him.
Laura Baldwin brings a beautiful warmth to Janey, and her tender song "The Future's Bright" brings pathos to the show as she realises Eugene's success means she risks being left behind.
Eugene's best mate Feris, played with a confident swagger by Daniel Buckley, helps maintain the show's high-octane energy levels, along with Scott Paige as glossy Hollywood scout Theo.
In the original concert performance at the London Palladium, Warwick Davis starred as evil Lord Hector, here played with nice comedy chops by Ian Hughes. Davis is now producing the show, rather than performing in it, but his Hollywood contacts book must surely be behind Star Wars legend Mark Hamill voicing Kevin the Robot – for one show, at least.
Eugenius! has a lot going for it, but the superpowers of these characters haven't quite reached their full potential.
Eugenius! runs at The Other Palace until 3 March.