Review: Amélie the Musical (Watermill Theatre)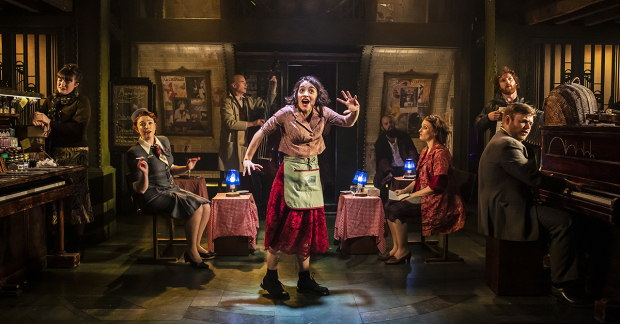 With poignant synchronicity, the musical adaptation of Amélie has its UK premiere during a week when the world watched in horror as Notre Dame burned. Indeed, the cathedral features in a key scene in this love letter to late 20th century Paris just as it did in the film. The creators of the musical, Craig Lucas (book), Daniel Messé (music) and Nathan Tysen (lyrics with Messé) have reworked the material with the Watermill cast since its 2017 Broadway run, restoring the much-loved delicate whimsicality of the film.
Director Michael Fentiman marshals a superb team to realise a collective vision of the French capital that manages to go beyond cliché to tell a story that combines uncertainty and misunderstanding with joy and connection.
Young Amélie is brought up by eccentric, neurotic parents who confine her at home, wrongly believing that her health is delicate. The paranoid couple even put pay to her pet goldfish Fluffy. Her mother Andamine disappears from the picture early on thanks, with sad topical irony, to an unfortunate incident at Notre Dame involving the suicide of a Canadian tourist.
Her bereaved, distant father Raphael builds a shrine to his wife with a garden gnome at its centre and makes a poor job of raising his lonely little daughter, until she escapes to find work as a waitress in a Parisian café full of eccentric bohemians. Her upbringing has left her with a fear of human connection, but when she discovers a box of keepsakes in her garret belonging to a previous occupant, she resolves to find him and reunite him with his treasures.
The feelgood factor she gets from this simple act of kindness prompts her to embark on a campaign to perform a series of similar anonymous acts. Thus she crosses the path of Nino when she finds a curious scrapbook of discarded photobooth snaps he has lost. The story follows her attempts to find and yet evade him through a series of misunderstandings until her café community manage to bring them together. En route, she tricks her father into a world tour by kidnapping that garden gnome, brings joy to a young greengrocer who is being bullied by his boss and brings other would-be lovers together.
As Amélie, French-Canadian Audrey Brisson brings her gamine charm and more to a role created by her namesake Audrey Tatou. Brisson's petite stature belies a huge thrilling voice and a powerful physique, honed by years of performing with Cirque du Soleil. She ascends to the sanctuary of her cosy garret with its warm crimson hangings by simply reaching out for a rising ceiling lamp. She has a core of steel and an authority which works in perfect balance with her delicacy.
The 12-strong cast of actor-musicians is strong on strings. Under musical director George Francis and with arrangements by musical supervisor Barnaby Race, cellos and violins, complemented by accordion and piano, combine to produce a plangent sound. The music works with Elliot Grigg's glowing lighting to conjure a magical, surreal Paris on designer Madeleine Girling's lovingly detailed exteriors and interiors, which artfully incorporate two pianos too.
Girling uses height as well as depth for an artful impression of Paris, to which movement director Tom Jackson Greaves brings all the bustle of the city with swirling tableaux of bodies and instruments, the curves of the cellos and violins echoing the graceful curves of Girling's art nouveau ironwork.
The company have magnificent singing voices and successfully negotiate French accents to add to the authenticity of the Paris location. Dik Downey's puppets, expertly animated by the cast, bring to life both goldfish and gnome and, movingly, the lonely toddler Amélie.
The human cast is uniformly excellent, many doubling roles. Fiddler Kate Robson-Stuart as café confidante Suzanne has a golden voice and an enchanting way of combining her singing, playing and movement quality. Samuel Morgan-Grahame gets to be surreal goldfish Fluffy and amorous plumber Joseph. Jez Unwin and Rachel Dawson perfect the art of bad parenting as Andamine and Raphael. Josh Sneesby's Blind Beggar and Johnson Willis as Amélie's artist neighbour and confidant Dufayel are both touching and attractively Parisian. Willis contrasts this in his other role as the hard and unsympathetic greengrocer Collignon. Oliver Grant is a delight as his sweet-natured, fruit-loving assistant Lucien and Chris Jared's Nino has just the dark looks and evasive charm to fascinate our heroine.
Caolan McCarthy does an extraordinary turn as Elton John in a pastiche echoing his anthem for Diana that crowns the first half and leaves you wanting more. And more is what the audience gets, with dancing phalluses in a sex shop, surreal life-size figs, globe-trotting gnomes and a trail of blue arrows Amélie lays for Nino to follow, created by cast members wearing rubber gloves.
It's the perfect production of a delicious musical that audiences won't want to miss at the Watermill or out on tour.