Review: A Midsummer Night's Dream (Watermill Theatre)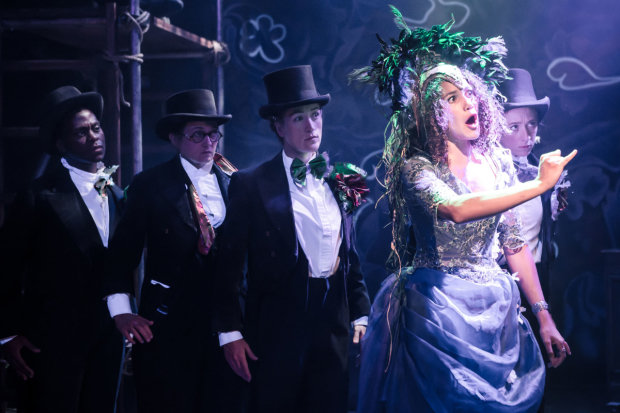 Watermill artistic director Paul Hart and his company find the funny, the magic and the dreamlike in arguably Shakespeare's most popular play. In a story about transformation, designer Katie Lias subtly transforms the Watermill's rustic interior into a mysterious Edwardian theatre, lit by Tom White, suggesting depth with shining reflections.
The company transform a story familiar to many into a tale of the unexpected with game-changing casting coups. Bottom as a woman? Victoria Blunt's beaming, expansive Northern lass, channelling Victoria Wood, Gracie Fields and with simply her own delightful sense of fun, make it hard for me to imagine a male Bottom now.
The nicely-balanced quartet of lovers has Sophie Stone's feisty Hermia eloquently signing as well as speaking her desperation to escape with her Lysander. Lysander signs too, intensifying their relationship. Sometimes she simply signs without speaking, creating moments of urgent concentration shared by the audience. Her Lysander Tyrone Huntley brings his muscular charisma to the role and the rich voice that has made him a musical theatre star finds a lovely musicality in his lines. Lillie Flynn's Helena equals Hermia's grit – a determined bluestocking fighting off exhaustion and bewilderment to hold her own in the enchanted night. Joey Hickman is perfect as a bespectacled wimp of a Demetrius and unlike the other lovers, does double – as the equally wimpy Flute, a weedy Thisbe in the Mechanicals' play. Triumphantly, he is also MD, subtly underscoring the action from the keyboards and orchestrating the musical talents of the cast.
Offue Okegbe makes an imposing Theseus. The usual doubling is with Oberon, but Okegbe demonstrates his comic mojo as stout-hearted Snout, the mechanical cast as a beleaguered Wall, his body manhandled by lovers Pyramus and Thisbe seeking that chink. Jamie Satterthwaite, a virile, tricksy Oberon, relishes doubling as gloomy Starveling aka a sulky Moonshine. Emma McDonald, an exotic, regal Hippolyta makes a sultry, sexy Titania. Dignified and defiant warring with Oberon, she joyfully finds her animal side, romping with her asinine lover on her leafy bed.
In a riveting coup de theatre, Eva Feiler's first appearance as an eager-to-please Puck has her wrong-footed by a fairy chorus interrogating her from around the stage. She doubles as Snug (aka an especially cowardly Lion) and notably as Theseus' MC Philostrate, for Puck herself is the Midsummer Night's busy MC. Mike Slader's doubling Egeus and Quince is telling too – the sinister controlling father with the would-be bossy director. Slader relishes both roles.
Clever use of found music adds to the enchantment. Jay Hawkin's "I Put a Spell on You" is indeed a spellbinding – and deliciously comical – accompaniment to the liberal application of magical flower juice. And Laura Mvula's "Sing to the Moon" is gorgeously apposite as lovers, Mechanicals and even fairies find themselves 'drowning in a helpless feeling' in the enchanted wood. Expect the unexpected in an evening of magical delight.