Here Lies Love (NT Dorfman)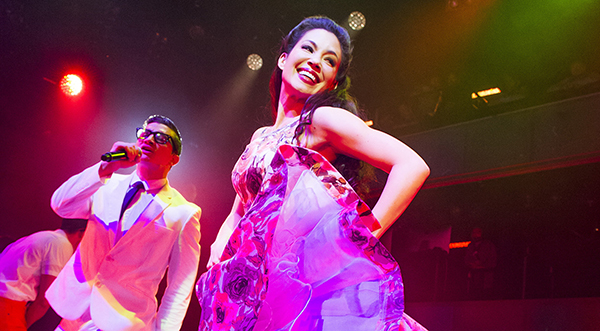 I'm sorry that the Cottesloe – as part of the primarily state-subsidised National Theatre which is "ours" – has been renamed for a private sponsor (Lloyd Dorfman of Travelex and the cheap seat scheme has given £10m to the overall £80m rebuild and refurb), and not for an artist or even an actor; sorry, too, that the reopening show is not home-grown.
With those caveats out the way, I can happily declare that Here Lies Love, imported from the Public Theater in New York, is the most exciting, adventurous new musical on the South Bank since London Road and, before that, Caroline, or Change; and all have turned up on the NT watch of outgoing artistic director Nicholas Hytner.
This is the disco-dancing theatrical story of Imelda, the glamour girl from the sticks inveigling her way into power, marrying a leading senator (Mark Bautista's sleek and plausible Ferdinand Marcos) adjusting her personality, leading and losing her people, and her first boyfriend, and paying the price. And it all happens before we know about (or even see, alas) the shoe collection.
It is, in fact, Evita the sequel, without the melodic surge, fire-cracker lyrics or take-home tunes of that great show, but with a whole new energy of its own and a brilliant synthesis of dee-jaying by Fatboy Slim (represented by Martin Sarreal, surreal in shades and blonde coiffure) and original songs by Talking Heads cult composer David Byrne.
Byrne was prominent in the first-night ground floor bopping crowd (only rivalled on the move-and-shake front by showbiz reporter Baz Bamigboye and NT stage manager Jane Suffling, combining her patent enthusiasm with platform shifting responsibilities) as we followed the collision between Imelda's ambition and political expediency leading to civil strife, opposition wipe-out, martial law and US bail-out.
The chorus in Alex Timbers's well-drilled production, designed by David Korins and choreographed by Annie-B Parson – is an ethnically diverse backing group ensemble of catwalk cool cats, Filipino fairies, Manhattan mannequins and right-on revolutionaries.
The elision between disco sound and live singing is technically perfect. The Dorfman is the new Cottesloe with added sleekness (grey panels on the galleries to off-set the black), and the show mingles end-stage theatricality with promenade involvement as the dance crowd move around the platforms, redefining the space as never before while telling a story of love, opportunism, betrayal and great costumes.
There are flashing pictorial hints of Marcos models Princess Margaret and Jackie Kennedy (pink pillbox hat and coat for assassination day) in Imelda's story, which combines elements of rightful supremacy and accidental power. But Natalie Mendoza's full-wattage overnight star performance embraces emotional and nationalistic variations – complemented by Gia Macuja Atchison's well-defined best friend Estrella – in a stark Brechtian presentation.
The get-up-and-dance music is just that, the costumes as beautiful as the cast, and the whole immersive event – compelling, tactfully complemented with video projections and photos – a double-edged fable of modern democracy high-jacked by personality politics, greed and corruption.
A revolutionary musical theatre experience, indeed, as they say on the poster, which boils down to a surprise conclusion of a peoples' power song on acoustic guitar and side drum: God draws straight, they sing, but with crooked lines.