Forever Plaid (St James Theatre)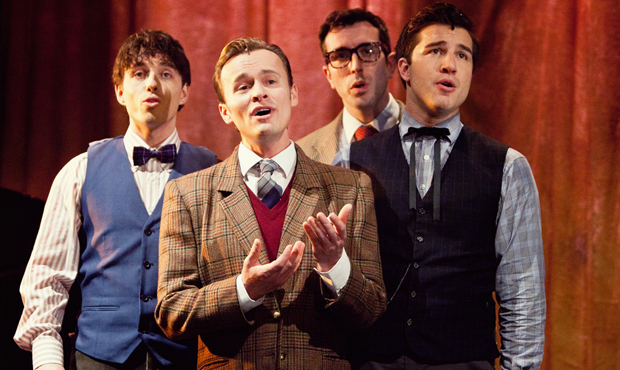 Tantalisingly close to achieving the singing success they'd dreamed of, The Plaids were an unknown all-American quartet who were killed outright in a 1964 road accident on their way to their first big gig.
In Stuart Ross's musical, here directed and choreographed by Grant Murphy, the cosmos and the stars align in order to allow the four fresh-faced young men to return from the dead for a one-night-only performance of the set they never got to sing in life.
It's a rather bizarre way of engineering the reunion, but it does serve to give a narrative thread to what is essentially a string of 50s and 60s hits, performed with irresistible zing by the cast, along with musical director and lyrical pianist Anthony Gabriele.
The songs like "Three Coins in the Fountain", "Perfidia", "Catch a Falling Star" and "Heart and Soul" are beautifully arranged with all the close harmonies of the barbershop tradition.
The Plaids were homespun lads who worshipped not Elvis but Perry Como, revering everything about him, down to his gold cardigan. They dreamed of The Ed Sullivan Show, and put their own US spin on the Beatles' "She Loves You".
Ex-S Club 7 star Jon Lee gives a pitch-perfect performance as Jinx, and Sparky is played with charm and sincerity by Keith Jack. Some of the best laughs come from Luke Striffler's engaging physical comedy, and he also ably maintains his place in the vocal line-up. Looking uncannily like Hank Marvin, Matthew Quinn brings a warm-hearted innocence to his role as Smudge, and plays a mean double bass for several of the numbers.
Grant Murphy's snappy choreography keeps the show swinging hard, and Nik Corrall's costumes and set conjure all the optimism of the early 1960s, when gold discs were the ultimate pop dream. And at least the band finally get to wear the plaid tuxedos they were on their way to collect when a coach slammed into their car.
As a premise, the 'we're already dead' theme is pushed rather hard at times – and dancing with a dead uncle's skeleton doesn't add much to the party. Rather than building up layers of backstory, these boys already know the fate that ends their ambitions, and so the entire show is woven through with a poignant sense of loss and yearning for what might have been. Yet with this gifted cast and super-slick production, at times it gets pretty close to harmony heaven.
Forever Plaid runs at the St James Theatre until 24 April.