West Yorkshire Playhouse to change name to Leeds Playhouse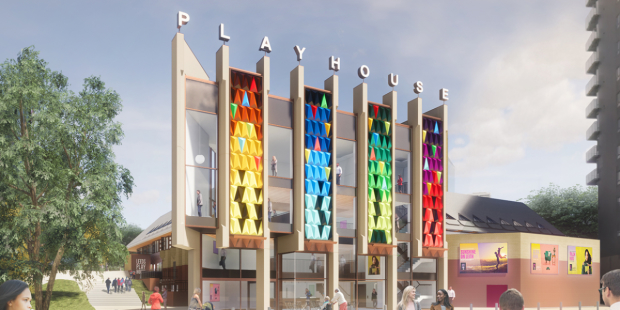 The West Yorkshire Playhouse is to change its name to the Leeds Playhouse.
The Leeds Playhouse was the venue's original name in 1970 before it changed to West Yorkshire Playhouse in 1990. It and comes as the venue undergoes a redevelopment project to improve access and create a new city-facing entrance. The Playhouse will also open up a third performance space called the Bramall Rock Void.
Artistic director James Brining said: "Changing our name to Leeds Playhouse is a progressive step forward for the organisation, reflecting and acknowledging our rich and fruitful history. Nationally, the name change locates us geographically in Leeds, a contemporary, dynamic and ambitious city striving for excellence and putting culture at the heart of its future growth."
During the redevelopment, the venue will present a pop up season, performed at a number of venues including a temporary space on the existing Playhouse site.
The season will feature a variety of pieces, including revivals of Jim Cartwright's Road, Selina Thompson's Salt., Random by Debbie Tucker Green, Europe from David Greig and Charley Miles' Blackthorn, as well as a new production of Kes ahead of a national tour.
Opera North will present a brand new piece Not Such Quiet Girls by Jess Wright, examining the roles of women on the Western Front, while the venue will also present a celebration of the 70th anniversary of the SS Empire Windrush, Airplays, co-produced with BBC Radio Leeds in association with Leeds College of Music.
Tessa Parr will also play the titular role in a new revival of Hamlet, while Around the World in 80 Days will be presented at venues across the city.
The season will feature an ensemble company with cast including Parr, Robert Pickavance, Jo Mousley, Elexi Walker, Susan Twist, Joseph Alessi, Darren Kuppan, Lladel Bryant, Simona Bitmate and Dan Parr.
Associate director Amy Leach said: "Our season is made up of a wide variety of stories that interrogate Britain from a contemporary, largely Northern perspective, as well as through the lens of the past."