The Tricycle to be renamed as Kiln Theatre: first season to feature Sharon D Clarke and Clive Rowe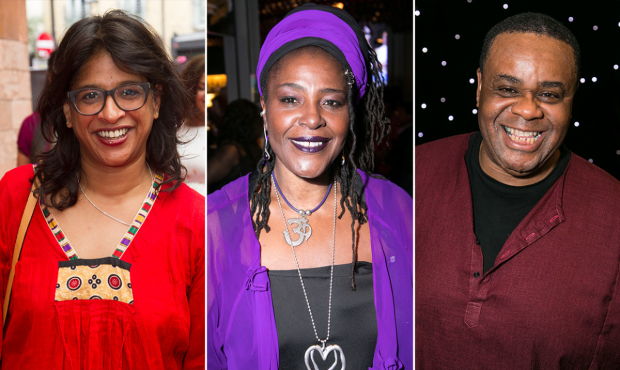 Artistic director Indhu Rubasingham has announced that the Tricycle Theatre has been renamed as the Kiln Theatre, with the refurbished venue's first season to feature Sharon D Clarke and Clive Rowe in a revival of Blues in the Night and the UK premiere of Florian Zeller's The Son.
The Kilburn venue will reopen in September with the world premiere of Holy Sh!t by Alexis Zegerman (The Steingolds), directed by Rubasingham with design by Robert Jones, lighting design by Oliver Fenwick and composition by David Shrubsole. Following four forty-somethings jostling to get children into schools, the dark comedy runs from 5 September to 6 October.
Zadie Smith's novel White Teeth will be adapted for the stage in a new musical by Stephen Sharkey (Inkheart), also directed by Rubasingham. Set in Kilburn, the novel follows a series of individuals living on the High Road, coming together in a fast-paced journey through cultures and histories. The piece will have design by Tom Piper, lighting design by Oliver Fenwick, sound design by Carolyn Downing and composition by Paul Englishby. The show will play from 26 October to 22 December.
Smith said: "I couldn't be prouder than to know White Teeth has found a home at this new transformed space, a theatre so close to my heart and so essential to the community it serves." The musical's cast will be composed of Ayesha Antoine, Michelle Austin, Ayesha Dharker, Tony Jayawardena, Richard Lumsden and Charlotte Lucas.
From 9 January to 2 February 2019, Pooja Ghai (Lions and Tigers) will direct Ishy Din's Approaching Empty, which looks at the lives of taxi drivers in north east England after Margaret Thatcher's death. The show is a co-production with Tamasha and Live Theatre, and has design by Rosa Maggiora, lighting design by David Plater and composition and sound design by Arun Ghosh.
Kiln Theatre will host the UK premiere of Florian Zeller's The Son, translated by Christopher Hampton (The Father) and directed by Michael Longhurst (Caroline, Or Change). Running from 20 February to 13 April, the piece follows a teenager trying to cope with a family breakdown. Completing the trilogy of plays including Zeller's The Father and The Mother, both of which ran at the Tricycle and in the West End, casting for the UK premiere is to be announced.
From 5 June to 13 July, Rubasingham will direct the world premiere of Samuel Adamson's Wife, a show that follows four queer stories over four generations within one family. Adamson's previous credits include Running Wild and The Light Princess.
Sharon D Clarke (Caroline, Or Change) and Clive Rowe (Guys and Dolls) will star in a new revival of Sheldon Epps' Blues in the Night, directed by Susie McKenna. Set in 1939, the musical follows a man and three women who have a love of music and features songs from the likes of Bessie Smith, Duke Ellington, Johnny Mercer, Harold Arlen and more. The musical was nominated for both Tony and Olivier Awards when it first opened in 1980, and will be revived for the first time in 30 years. The show runs from 22 July to 7 September.
In autumn 2019, Kiln Theatre will present the world premiere of Anupama Chandrasekhar's When the Crows Visit, with the piece transposing Ibsen's Ghosts into modern-day India.
Rubasingham said: "Today we reveal Kiln Theatre's opening year-long season in our beautifully refurbished new building – the final stage of The Tricycle Transformed. We are hugely proud of our heritage, and the part we play in the community here in Kilburn – Kiln Theatre embraces that spirit, and everything that has come before in our history has brought us to this point, building a theatre and programme for the future."