Anthony Welsh: 'My heart raced when I first read The Brothers Size'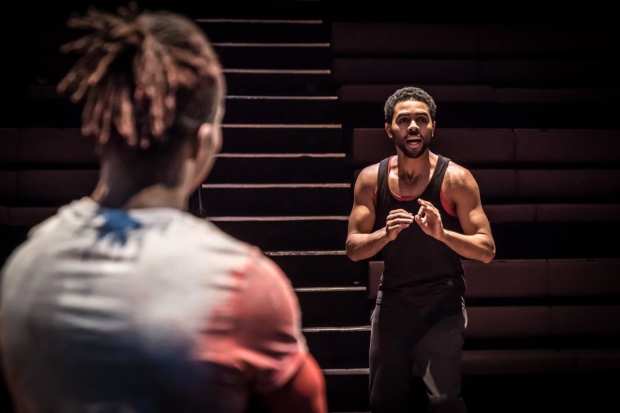 Anthony Welsh made his stage debut in Tarell Alvin McCraney's play The Brothers Size in 2008, a production which this week he returns to in a tenth anniversary revival. Between 2008 and 2018 he has starred in zombie movie The Girl With All the Gifts opposite Gemma Arterton and Paddy Considine, TV comedy Fleabag, Black Mirror and new film Journeyman. On stage he performed in Sucker Punch at the Royal Court and the hit run of Barber Shop Chronicles. Here he explains why he wanted to go back to The Brothers Size.
---
I have always known that if The Brothers Size ever came back and I had a chance to do it then I would. It was the first play I did out of drama school – I left a little early in order do it – and it is beautiful. I remember where I was when I read it for the first time and my heart raced. I was still trying to find my American accent at the time, but as soon as I read it, I thought: I can do one! Something just clicked.
You don't want your younger brother to make friends in prison. I play the guy who the younger of the Size brothers befriends in prison. They form a bond. The piece is essentially about the relationship between the two brothers and the good and the bad that happens to them.
I was in Sucker Punch at the Royal Court and that helped me get my recent film Journeyman. We were trained during rehearsals by Errol Christie, the England amateur champion in his prime and that's where I learnt how to look convincing. I did a zombie movie with Paddy Considine and we just chatted about boxing then. Had I known he was putting together a boxing movie I probably wouldn't have said anything as it sounded like I was pitching to him.
Daniel Kaluuya and I worked on Sucker Punch and now he's an Oscar nominee! An Oscar nominee! I love that. I speak to him quite a bit and I spoke to him on the morning it was announced. He was stateside and I didn't really have any words for him. We just looked at each other on Facetime saying 'This is crazy'. It's so deserved. I'm so proud of him.
I didn't know I wanted to be an actor until I was about 21. A lot of people were already doing NYT and drama club by that age, but I didn't know about those places. I enjoyed drama at school, but it was only when I didn't do well in my A-levels that my uncle suggested I do something I enjoyed that was different. So I did a part-time, once a week evening class and my teacher said I should audition for Richmond drama school. They had a course and I realised there were all these places like LAMDA and RADA. It was like a snowball effect: I opened a door, it led to that, then it rolled and rolled and now I'm in The Brothers Size.
The Brothers Size runs at the Young Vic until 14 February.