Wolf Hall / Bring Up the Bodies (Aldwych, West End)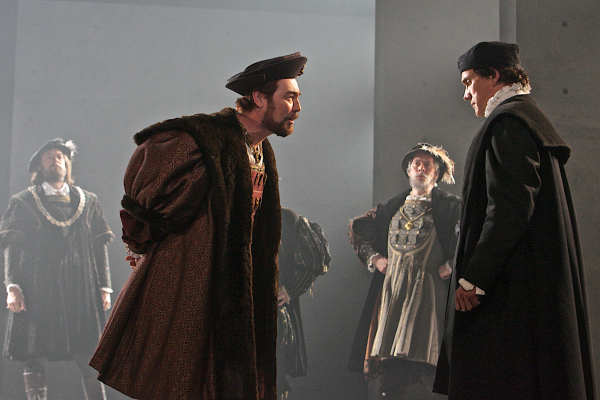 It's odd, the RSC returning to the Aldwych – in a West End co-production – with two three-hours plays, adapted by Mike Poulton from Hilary Mantel's Man Booker Prize-winning novels, which allude to the birth of Shakespeare's Gloriana, Queen Elizabeth I, the last of the Tudor monarchs, in a saga of court intrigue at the court of her father, King Henry VIII.
Odd, because they're not Shakespearean, and they're not epic in any post-Brechtian, modern way at all. The plays, like the novels, concentrate on the shadowy figure of Thomas Cromwell, the blacksmith's son from Putney, fixing King Henry's annulment of his marriage to Katherine of Aragon and in effect sending Anne Boleyn to the block, smoothing the path of the Reformation and becoming the most powerful chief minister in our history; lawyer, financier, statesman, he genuinely believed in a modern new Britain where the king controlled church, as well as parliament.
We certainly deduce as much from Ben Miles' sinewy, knowing and charismatic performance as Cromwell – a role to be taken in the upcoming television version by Mark Rylance – even if the plays themselves don't actually show this, except in one or two speeches.
Poulton's writing is serviceable rather than inherently dramatic, with jokes tacked on, not always good ones, incorporating the fall of Cromwell's hero, Cardinal Wolsey (a blustery Paul Jesson) and the disposal of Sir Thomas More (a desperate John Ramm); at times in Wolf Hall, you feel you are watching a flat version of Shakespeare's Henry VIII rolled into a skewed re-write of Robert Bolt's A Man For All Seasons.
And in Bring Up The Bodies, with the unsavoury snaring of Anne Boleyn (an increasingly screechy Lydia Leonard) as a nymphomaniac, and even incestuous, slut, you invariably long for the far superior Anne Boleyn play of Howard Brenton at the Globe which charted the impulse of the Reformation in a more illuminating fashion and elaborated more tellingly on the fracas over William Tyndale's new English Bible.
The RSC only thinks "thrust stage" these days, so it's possible that the translation of Jeremy Herrin's production from the cosy Swan in Stratford to the unforgiving proscenium and awkward auditorium of the Aldwych – the Barbican was an improvement they should never have foresworn – has made a difference.
But the heart sinks at such staging clichés as the opening Globe Theatre-style company dance with fancy footwork and handclaps; snowfall for hearses (hearses for curses?); semi-lit river barges made of actors and cloaks as first Wolsey and then Anne Boleyn are ferried to their fates; a dead stag dragged on from an old As You Like It; bandaged corpses with bloody heads in muslin on a cart; and a messy, hysterically inaudible devil play thrusting poor old Wolsey into the gaping mouth of hell.
Aside from Miles', the most rigorous and compelling performances are those of Lucy Briers as a furious Katherine, almost bursting out of her Spanish bonnet, Nathaniel Parker as a hale, not too hearty (and, later, haunted) King Henry, and a striking Jay Taylor as court favourite Thomas Wyatt – half the cast seem to be called "Thomas" – who has by far the best lines of the play, one of Wyatt's own poems.
Christopher Oram's design is a concrete prison topped with a large cage-like canopy, with a huge illuminated cross on the back wall. It's a suitably grim dungeon for these eddying convulsions of state and religion, which grip most tellingly in the second half of Wolf Hall. But as a sign of a new epic theatre at the RSC, the enterprise strikes me as disappointing. Perhaps Mantel's third novel, recounting the fall of Cromwell, will enable a more dramatic and theatrical compression to take flight; so far, so doggedly enjoyable.