To see or not to see: what did critics think about Michelle Terry's Hamlet at Shakespeare's Globe?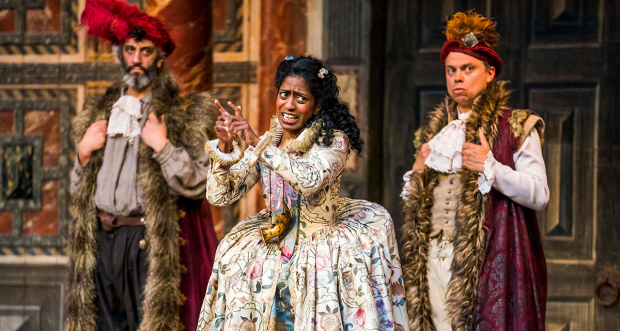 Sarah Crompton, WhatsOnStage
"Following Emma Rice's controversial directorship, Terry's regime was almost ridiculously well-intentioned: keeping the best of Rice's innovations such as gender, colour and disability blind casting, banishing the excessive lighting and radical interpretations that had so disturbed the board."
"In As You Like It, the random nature of the results paid off. The comedy, of courtiers on the run in the Forest of Arden, isn't illuminated or particularly well-spoken, but it has an energy that carries it through. The boldest decision – to cast the Deaf actor Nadia Nadarajah as Celia, speaking her lines in British Sign Language – is inspirational, animating the entire production."
"If ever there was an argument for director's theatre it is this production of Hamlet which is so muddled, so various in style, so completely incoherent in action, that Terry finds herself beached in the centre with nowhere to go. Each speech has clarity and a line of thought; she is a compelling presence. But I have no idea who her Hamlet is, or what he is up to at any given point. There is no reading and the almost improvisatory, 'let's put the show on right here' qualities that have swept the company through the comedy, leave the tragedy spilling across the stage like a deflated pudding."
"The costumes don't help. Terry really does affect an antic disposition, coming on like a white-faced Pierrot from a 1970s poster. I defy anyone to make anything of "To be or not to be" while wearing such a garb, with a painted clown's mouth. "
Natasha Tripney, The Stage
"Perhaps as a result of the ensemble-led approach to the creation of these opening productions, [Terry's] Hamlet doesn't dominate the stage. She's always engaging. She brings out new colours in the text, but feels a bit restrained in the role."
"It's a production that places clarity of verse and emotion over directorial fireworks. One of the most striking elements is Terry's costume. When she assumes her antic disposition, she also dons a white clown suit with a jagged lipstick grin. By making Hamlet a jester, it licenses her to behave in different ways. It shifts her status in the family. It grants her power and marks her apart. Laughter can be a weapon after all. It's an interesting idea that is under-explored."
"This is a relatively compact, accessible Hamlet – solid rather than revelatory. If there is a thread that connects this production with As You Like It… it's one of costume we put on in our lives – the clown, the soldier, the scholar, woman, man."
"While the term post-gender has been bandied about, this production is actually pretty conventional in its presentation of gender – these are straightforward swaps and the whole thing is solidly heteronormative. There's nothing here quite so thrilling as, say, the introduction of Helenus into the quartet of lovers in Rice's A Midsummer Night's Dream."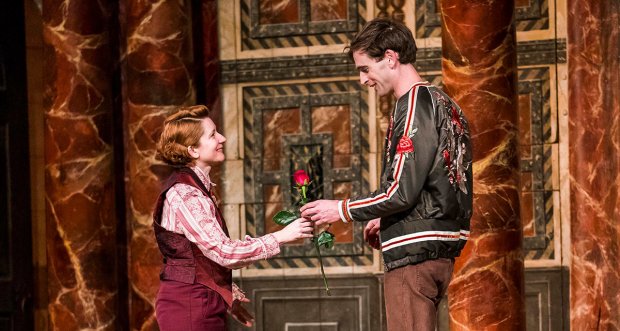 Andrzej Lukowski, Time Out
"[Hamlet] has one very obviously selling point: Terry herself, in the title role. And the normally brilliant actor (and new Globe artistic director) is… pretty good. Where most of the cast in the rep shows feel like they're performing a defined gender role (regardless of their own gender), Terry plays Hamlet as a sort of sulky androgyne, possibly a teenager, possibly an older princeling emotionally stunted by their privilege."
"Compared to the riotous, vibrant Midsummer Night's Dream that kicked off the reign of Terry's controversially deposed predecessor Emma Rice, this feels pretty underwhelming. Next to London's last big Hamlet, Robert Icke's Almeida production, it's left for dust."
"There are some some peculiarities to this production of beloved comedy As You Like It, but the pointed diversity is not going to be an issue for the worldly 2018 theatre goer. Indeed, the boldest stroke, the casting of Deaf actor Nadia Nadarajah in the role of feisty noblewoman Celia, is fantastic – signing her lines, she provides a smart, sardonic comic foil to the loquacious sadsacks around her, and there are a couple of nice pick ups on Shakespeare's text that even support the idea the character might not be non-verbal."
"Where I struggled most was with the casting of Jack Laskey as the show's heroine, Rosalind. I guess it's fine to give the biggest female role in the Shakespeare canon to a man (though that's maybe something worth a moment of thought). My problem was that to all intents and purpose he played the part as a slightly bemusing David Tennant impression (for reasons too complicated to get into, Rosalind spends most of the play pretending to be a man). He seemed out of place, and consistently blown off the stage by the marvellous Bettrys Jones as his spunky paramour Orlando."
Paul Taylor, The Independent
"[As You Like It] is full of lovely things. Jack Laskey plays Rosalind – an already gender-bending role – with a thrilling emotional spontaneity, both freed and tormented by her 'Ganymede' persona and clearly going out of her mind with love for Bettrys Jones's cross-cast Orlando. Deaf actor Nadia Nadarajah plays Rosalind's cousin Celia with great spirit and dash. The closeness of the relationship between these two characters, who have been brought up together since childhood, is beautifully conveyed through sign language.
"Musically, James Maloney serves both productions well. I loved the blowsy blare of trombones as Hamlet makes his way to his mother's bedroom. There are one or two pulse-quickening sequences in this staging (the thumping build-up of The Mousetrap, for one). Hamlet starts to feign his antic disposition by donning full clown make up and a cream coat and tie – Crazy Gang-meets-Victoria Wood. "
"Quigley and Nadarajah make a very piquant double-act as Rosencrantz and Guildenstern, as it once again introduces BSL signing. This method of communication is referenced movingly in the life-goes-on dance at the end which proves to be one of the production's highlights."
Henry Hitchings, Evening Standard
"Terry is far from being the first female Hamlet — something that happened in 1796 — but there's a broader commitment here to upending received wisdom about who gets to play which roles. Unfortunately, that doesn't translate into a compelling account of the tragedy."
"The stripped-back aesthetic has the potential to be invigorating, yet this is a Hamlet that lacks focus or any real propulsive energy and doesn't make sufficiently daring use of the Globe's generous space. Robust support comes from James Garnon as Claudius and Richard Katz as an unusually forthright Polonius, but the relationships aren't fleshed out enough to make Hamlet's emotional turmoil feel urgent."
"Jack Laskey as witty heroine Rosalind bears a striking resemblance to David Tennant at his most mercurial [in As You Like It], and Bettrys Jones is spirited as Orlando, who never quite seems worthy of Rosalind's affections. Deaf performer Nadia Nadarajah is Rosalind's friend Celia, and the cast's frequent use of sign language creates a pleasing air of community, while there's vivid work from Helen Schlesinger across three parts."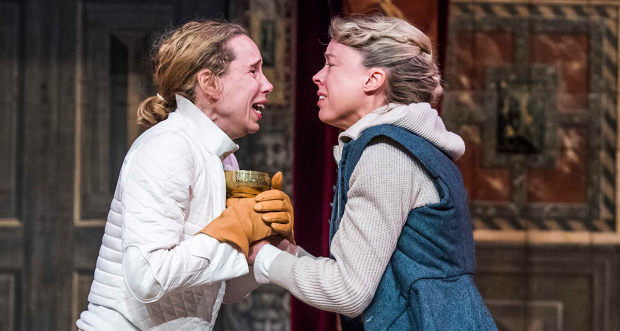 Ann Trenemann, The Times
"Why these two plays? They were both written in 1599, which is as tenuous a link as any, but it makes sense to have both light and dark in a double bill. The casting is revolutionary: gender blind, race blind, disability blind. Again, this works, rather brilliantly, in the gentle and hilarious As You Like It, but is a flop in Hamlet. Sorry, but that's the way I saw it."
"There is a star quality to the performance in As You Like It of Jack Laskey, a very tall and funny Rosalind. The casting suits the plot for soon he is larking about the Forest of Arden dressed as a man."
"There are moments that work superbly, such as when Hamlet meets his father's ghost, but much of the rest of the cast feel workaday. Shubham Saraf as Ophelia in particular never seems to fit. He is tall, formal and restrained. No, no, no. It is all quite unbelievable."
Michael Billington, The Guardian
"In this pairing of two plays performed by the 12-strong, gender-equal Globe ensemble there is much to enjoy: Michelle Terry's Hamlet, Jack Laskey's Rosalind, the energy of collective endeavour. But while there is a genuine sense of a fresh start being made, the shows raise serious questions about the idea of approaching Shakespeare without a governing directorial concept."
"We are used to female Hamlets and, in this production, Shubham Saraf also invests Ophelia with a dangerous anger and Bettrys Jones is a brisk and intemperate Laertes. In As You Like It, I was less persuaded by Jones as an Orlando overthrowing the court wrestler and found the role-switching confusing, with Catrin Aaron doubling as Corin and Phoebe. What does work in the comedy is the casting of a deaf actor, the vivacious Nadia Nadarajah, as Celia and the use of sign language as a means of communication between her and her fellow actors."
"For all the ensemble unity, I shall remember it chiefly for Laskey's overpowering Rosalind. Following in the footsteps of Adrian Lester and Ronald Pickup, he shows that a man is perfectly capable of capturing Rosalind's quicksilver temperament. He explodes with anger at Orlando's tardiness and hurls himself seductively on the ground to simulate a 'coming-on disposition'."