Review: Venice Preserved (Swan Theatre, Stratford-upon-Avon)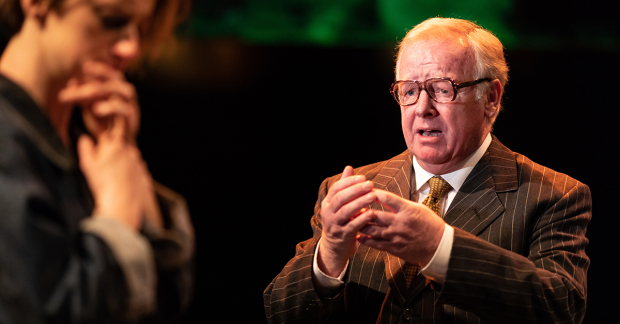 Conspirators seeking vengeance against their wealthy oppressors, seedy sexual encounters in a world of betrayal and deceit, murky secrets exchanged in dark corners: no, not some revised season finale of Game of Thrones, but the thrilling reinvention of a near 350 year-old Restoration tragedy.
Thomas Otway's play has all the intrigue and narrative drive of House of Cards, and director Prasanna Puwanarajah exploits these qualities for all they're worth. Recognising that there's no shame in playing to the piece's strengths, he finds every modern resonance and political parallel he can and foregrounds the play's relentless pace and almost filmic imagery. The result is gripping and explosive.
The plot may be complex and layered, but the storytelling is never less than crystal clear, and every character's motivations and actions would comfortably stand the scrutiny of a 21st century writers' room. Venetian nobleman Jaffeir is torn between his love for his wife Belvidera and his loyalty to his friends, who are conspiring to overthrow the senate. In an awkward twist for Jaffeir, his disapproving father-in-law is one of the senators.
The constant switching of perspectives and allegiances is dazzlingly accomplished, and Michael Grady-Hall and Jodie McNee form the emotional heart of the piece, trapped in an epic love that seems to doom them to disaster. But there are countless other terrific performances that make this a truly ensemble achievement.
Prime among these is Stephen Fewell as Jaffeir's best mate Pierre. His range and believability are second to none, and there are moments when you begin to wonder why he isn't a massive star. John Hodgkinson deservedly claims the biggest laughs with some leavening comedy scenes as an S-and-M-loving senator, while Les Dennis – yes, that Les Dennis – is both touching and authoritative in the role of Priuli, Belvidera's conflicted father.
With a wet-look, black-tiled set and gloomy visuals, designer James Cotterill and lighting designer Jack Knowles have gone for what the programme describes as a "Restoration noir" aesthetic. Other suggested references include Blade Runner, cyberpunk and Sin City, and there's definitely an air of the hidden underbelly about this version of a modern-day Venice. Coupled with George Dennis' menacing 80s-influenced sound design and some evocative live guitar work from Joe Archer and Ben Walker, it's moody and captivating in equal measures.
Billed and presented as a Restoration political thriller, this production of Otway's dangerously enticing play demands that it be seen as a minor masterpiece. The fact that it has highly pertinent and powerful messages for today's ruling classes is, incidentally, a happy bonus. Either way, it deserves to reach a wide audience.