Review: Timon of Athens (Swan Theatre, RSC)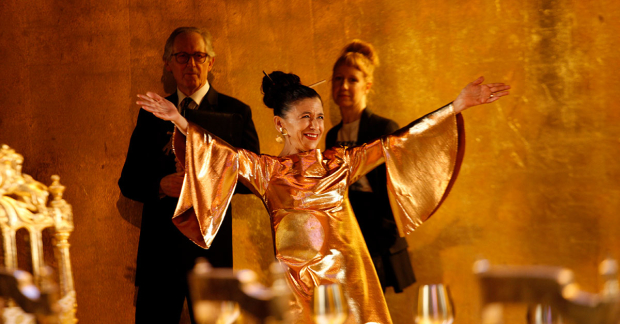 Purists often bridle when the text, context and subtext of Shakespeare's plays are tinkered with, whether by a director, their actors or the designer. I have been known to level criticism at directorial concepts that distort, misrepresent or otherwise mangle our greatest playwright.
It seems to me, however, that Simon Godwin has taken exactly the right approach to this new production of one of the Bard's most obscure, least performed plays. With a swashbuckling candour and refreshing energy, he's filleted and reformed the piece as a brisk, no-nonsense crash course in straightforward storytelling.
In this endeavour, he borrows heavily from more modern media: scenes are intelligently intercut in the style of a television soap; visual moments are lent filmic impact with some dramatic set dressing from designer Soutra Gilmour and beautifully judged lighting by Tim Lutkin; and there's a toothsome, Greek-infused underscore from Michael Bruce, delivered with passion and intensity by singer Dunia Botic and a band of five, that adds texture and Mediterranean flair to this Greek tragedy.
Godwin opts for a linear narrative throughout, so we get no subplots, plenty of asides to keep the audience up to speed with who's thinking what, and an infectious pace that constantly moves the unencumbered story along. It may not be Shakespeare's most elaborate plotting or poetic language, but it certainly benefits from clarity of intent and delivery.
Kathryn Hunter plays Timon – one of many roles that dispense cheerfully with the playwright's original gender constraints – and she's a wiry, physical presence whenever she's on stage. I struggled to shed the sense that she's permanently acting, but there's no denying she's a powerful and charismatic performer and she undoubtedly provides a compelling focus for the action.
Among the rest of the company, there are many strong performances, from Debbie Korley's youthfully invigorating rebel Alcibiades to an enjoyable poet and painter double-act from Ralph Davis and Sagar I M Arya respectively. Imogen Slaughter, David Sturzaker and James Clyde make a fine trio as Timon's friends who abandon and deny her when things get rough financially, and their dealings with Timon are among the most shocking of the show.
Godwin also taps into a contemporary resonance, with the anti-Athenian revolutionaries dressed in up-to-the-minute French 'gilets jaunes' and the tawdriness of the ruling class's love of gold reflected – literally – in some magnificent costumes and props that are more than a little reminiscent of a certain lift in a certain New York tower. Fortunately, the director never overplays these angles, and they are left to serve the story, rather than being contorted to fit it.
Yes, there are liberties. Yes, there are some bits that don't come off quite as well. But the production is a handsome and judicious representation of this rarely done play, which should do much to rehabilitate it in the canon. On this showing, Timon thoroughly deserves its place in the Complete Works.