Review: Don Quixote (Garrick Theatre)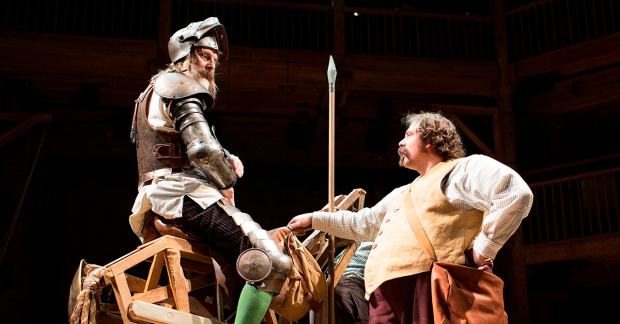 Christmas has come early to Charing Cross Road where the RSC's gift to London theatregoers is this rollicking roughhouse extravaganza. If you're looking for festive family-friendly entertainment but can't stand panto, here's your show.
James Fenton's nimble distillation of Miguel de Cervantes' legendary tales of the crazed, windmill-tilting knight and his long-suffering sidekick was first seen in Stratford over two years ago. One can only assume that the availability of its two stars is the reason it took so long to transfer. It was wise to wait: David Threlfall as Quixote and Rufus Hound as Sancho are a magical pairing.
This is the RSC in party mode: the tone of Angus Jackson's ebullient production is Monty Python takes on the classics. There is a 'comedy director' credited (Cal McCrystal) and the funny – frequently hilarious – business is superbly choreographed. There are pratfalls, food fights, potty-mouthed monks, running gags, audience participation, puppetry ranging from the sublime to the ridiculous, more mugging than Peckham in the '80s. But then, just when you're longing for a bit of substance and restraint – this being the RSC – it comes over all poetic, and proves authentically moving. Sancho's final eulogising of the dying Don is truly beautiful and the knight's subsequent ascension to the heavens leaves no tear ducts unchallenged.
There are so many songs (composer: Grant Olding), many of them enchanting, that you almost wish they'd gone the whole hog and given us a revival of the Broadway classic Man of La Mancha. To be fair, that probably wouldn't have been half as much fun as what is currently surging through the Garrick (why confine the action to the stage when you've got an auditorium full of chortling patrons to play with?).
A heavily padded Hound has the audience eating out of the palm of his hand as the corpulent, increasingly infuriated, entirely lovable Sancho Panza. His direct addresses to the front stalls are priceless, including the handling on press night of a mid-act fire alarm interruption. Underpinning the sparkle-in-his-eye, cheeky comedy though is a genuine affection and care for his master that becomes increasingly affecting as the evening draws on. He is irresistible.
Opposite him Threlfall plays it pretty straight, to satisfying effect. We – and Sancho – may see that the windmills he rails against are not evil monsters or that a flock of sheep isn't a gang of dangerous warriors, but this Don Quixote completely believes in his delusions. This makes him the still, vulnerable centre of a sometimes over-frenetic production. You may laugh a lot, but you'll care almost as much. It's a wonderful performance and the perfect foil to Hound's charismatic Everyman.
Every member of the versatile, high-energy ensemble makes a significant contribution to the merriment but I was especially taken with Richard Leeming who hilariously makes gormlessness into an art form as a number of subservient characters, and Eleanor Wyld playing everything from a free-spirited beauty to a sassy, booty-shaking donkey (yes, really).
If ultimately this feels more like a succession of vignettes than a real play it is nonetheless a lovely night out. From the gorgeous inventiveness of Toby Olié's puppetry to the lush opulence of Mark Henderson's lighting, and the terrific ensemble cast, this is fine, quality fun, big-hearted and innately theatrical.