Review: Pinter Four Moonlight / Night School (Harold Pinter Theatre)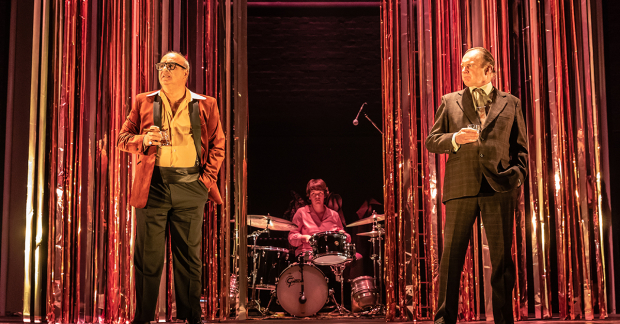 The logic of Jamie Lloyd's ambitious six-month season of Harold Pinter's complete short works is that sooner or later he will hit a play that is rarely performed for reasons other than length.
This double bill brings together two lesser known works from different phases of Pinter's career – Moonlight (from 1993) and Night School (staged in 1979, but seen on TV in 1960). The first is a melancholy piece about impending death and memory, serious yet flecked with comedy, the second is a comedy with hints of tragedy lurking. Both are in their different ways intractable, although both are illuminated here by directors taking a fresh approach.
Lyndsey Turner paints Moonlight in hues as rich as the bright red duffel coat the ghostly daughter Bridget wears as she prowls the action. Isis Hainsworth is wonderful as this other-worldly figure, whose presence and absence haunts the death bed of her civil servant father Andy, as he remembers old times, and needles his distant wife Bel for her lack of care for him.
The language is precise and absurd. "It's enough to make the cat laugh," he exclaims. "Do we have a cat?" But his brusque enquiries conceal his terror and the way that his memories have come to possess him. As played by Robert Glenister, Andy's fear runs under his anger and confusion, flying across his face even as he blusters, while Brid Brennan's self-contained but anxious Bel watches on. Then there are the brothers, Jake and Fred (Al Weaver and Dwane Walcott), parody Pinter boys, talking their own language, separated from their parents by their fantasy games. What has caused that rupture, what keeps them away from Andy's deathbed, we never know.
Turner directs with insight and care. Line by line, scene by scene, as the darkness falls, she holds our attention, but the meaning remains elusive, snagging away from us.
In Night School the meaning is much clearer, as Walter (Weaver again, slightly too chippy) returns from prison to find his aunts (sluggishly devoted Brennan and Janie Dee, having the time of her life in pinny and fake bosoms) have rented his room to the beautiful Sally (Jessica Barden), a teacher who spends her evening at night school.
As Glenister's landlord (the classic thug with a veneer of sophistication and an unlikely back story) investigates, Sally's other life is revealed, and we are plunged into a lost world of clubs where hostesses are there to entertain the clientele, under the nervous eye of Peter Polycarpou's slimy Tully. Thus, Sally's vertiginous balance is undermined.
Ed Stambollouian directs with a real style, using Abbie Finn's drummer to underscore the action, and making the bare bones of Soutra Gilmour's cuboid set come to life with glittering curtains dropping from the ceiling. Barden may be slightly tentative, but she passionately conveys Sally's entrapment – hitting the cymbals furiously, dancing like a wild thing, watching from the ladders at the back of the stage.
The problem is that each character seems to exist in a different Pinter play – and however sophisticated the staging, the actual setup feels dated. It's worth reviving but unlikely to make the canon.