Review: The Watsons (Chichester Festival Theatre)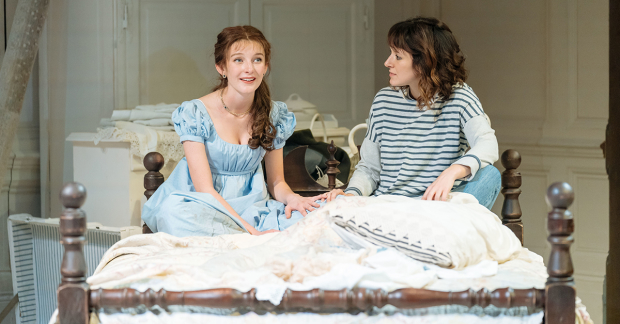 Jane Austen's uncompleted novel, The Watsons, has been attractive source material for many writers, all looking to seek answers to how Emma Watson, the attractive and intelligent heroine, would marry her way out of mind-crushing penury. Laura Wade's superb play takes the story to another level, producing a cracking evening's entertainment.
The story has all the usual Austen elements: the caddish young man, the very wealthy eligible bachelor and the young clergyman – although according to Austen's sister, it was the high-minded parson who was intended to be Emma's husband. It didn't sound right – almost as if Elizabeth Bennet were to be wed to Mr Collins.
The unlikelihood of this ending is the driving motivation of Wade's play but it branches in a completely different direction, as the playwright herself participates in the play, interacting with her own characters. What follows is a battle of ideas as Emma seeks an identity for herself and the other characters consider their own situations.
It's an intriguing concept, juggling the sort of philosophical questions that are normally the preserve of Tom Stoppard. While there are plenty of witty lines and some genuine laugh out loud moments, there are the odd times when it threatens to collapse under the weight of its own paradoxes – an interlude of "Uptown Funk" sits rather oddly with the rest of the play. But these are brief diversions in a play that's bursting with ideas.
Grace Molony's Emma slips smoothly between her Regency self and the inquiring participant, while Louise Ford's Laura tries to keep control of her own creation. How fascinating it must be for Wade to write herself into a play and have an actor portraying her – it could have been the acme of self-indulgence but it works brilliantly. Sophie Duval's social-climbing Mrs Robert, aiming to be the toast of Croydon, displays sure comic timing, while Sally Bankes adds a bit of fire to the domestic servant looking to strike out in a new direction. Credit too to Ben Stones for a set that serves as a Regency setting and a theatre for new ideas.
Director Samuel West keeps a firm hold on proceedings. It can't have been the easiest play to direct but it fizzes with life, rattles along at a cracking pace and provides as entertaining an evening as I've seen this year.