Review: Magic Mike Live (Hippodrome Casino)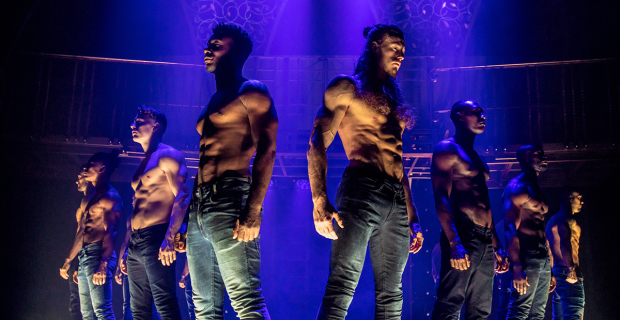 Here's a confession: I didn't volunteer for this gig for the intellectual stimulation; the broadening of my mind or the opportunity to dissect the plot. It's Magic Mike for heaven's sake, not Macbeth.
What it's also not, is the movie replicated on stage. If you head out to the Hippodrome Casino in London to watch the story of Mike Lane – roofer by day, stripper by night – you're going to be disappointed. However if you're hoping to watch a bunch of ridiculously honed and toned young guys dance their tight little butts off, you're in luck.
Having co-produced the movie, Channing Tatum has woven the best bits (and by "bits" I mean the stripping) from both films into a live show that was a huge hit in Las Vegas and is now in London. The theatre at the Hippodrome Casino has been transformed into a nightclub and the show is essentially a modern day version of the Chippendales.
The best way to enjoy Magic Mike Live is accompanied by quite a bit of champagne. And with that in mind, I think there's a plot but can't be sure. I think there's some live music but can't be entirely sure of that either.
The night I saw it, as might be expected, the punters were predominantly female and there was much "audience participation" but we were advised at the outset by the emcee Samantha Baines (who is out-and-out hilarious) that it is all completely voluntary. Should anyone not wish to have a 20 year-old thrust his groin in their face, they simply had to utter the magic word, "unicorn", and all lunging would politely desist.
The show does exactly what it says on the tin. There's abs. There's pecs and there's a serious amount of body oil. Along with my companion, and fuelled by the aforementioned champers, we threw caution to the wind and happily participated in whooping, cheering and the sporadic but very firm yelling of "unicorn".
The actual show is as tight as the performers' pants. The pectacular cast is huge (stop it) and they enthusiastically gyrate their hearts out, while the production values are impressively high: no expense was spared on lighting, costumes or Velcro.
Magic Mike won't stretch your mind. It won't melt your heart. But it might just make you cackle with laughter and there's abs-olutely nothing wrong with that. See what I did there? I'll get my coat…