Review: Holy Sh!t (Kiln Theatre)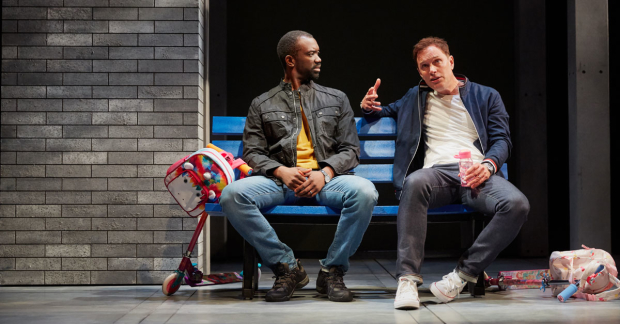 A group of around 50 protestors stood outside the renamed Kiln Theatre in Kilburn, North London, fighting for it to revert to being called The Tricycle. Or the Trike, as it was affectionately known. "It's Our Tricycle Not Your Kiln" read the neatly printed placards.
They have some support, including a letter to The Guardian from the former artistic director Nicolas Kent among others. But the present artistic director Indhu Rubasingham has her backers too, including Jim Cartwright, Imelda Staunton and playwright James Graham. Truth is that this row is overwhelming a major relaunch of a theatre that has been closed for two years for a £5.5 million redesign.
For my own part I don't much like the new name (too corporate) but always found the old name (too childish) confusing as well. What I do like is the new theatre which has kept the Tricycle's famous warmth and inclusiveness, and its rising entrance alley, while opening up access, improving sight lines and adding some welcoming public spaces. It has lots of loos ("Oh, there's more than one loo", a woman exclaimed delightedly), a café that opens on to the street, comfortable red seats instead of bottom-numbing benches, lots of leg room and a good, uncluttered view of the stage.
The real problem with the opening night of an adventurous and enticing autumn programme is that Holy Sh!t (which really does have a terrible name, not to mention an unforgivable exclamation mark) just isn't good enough. Written by the actress and playwright Alexis Zegerman, it takes as its starting point the promising subject of the lengths to which a Jewish mother and an atheist father will go in order to in order to get their child into the best state primary school. Which just happens to be C of E.
The resulting cultural, racial and social confusions that occur as Simone Kellerman (Dorothea Myer-Bennett, confident and unashamed) decides to take her family to church each week tear apart her relationship with her best friend Juliet (Claire Goose, disappointed and anxious), a true believer who is married to gently spoken Nick, a teacher, and put her own marriage to abrasive Sam (Daniel Lapaine) under strain. By the close Nick, who is black, is at loggerheads with everyone, fearing for his own child's future, as the fragility of the liberal values that both couples espouse has been exposed.
Zegerman is good at the minutiae of these middle-class lives – the coffee machines that filter their own water, the play dates, the private school that offers Pilates lessons, the uncertainties with language. ("Can I say brown?) She's clever too at revealing the hypocrisies as the couples squabble over "the same God none of us believe in". There are some excellent jokes – including one in which Sam reveals he has been attacked with a Le Creuset mug – and some dangerous observations of the incipient racism in the couple's relationships. I loved Simone's competitive hymn singing, when her easy soprano rises to beat the rest of the choir.
But although the actors under Rubasingham's efficient direction give it their all, and although it all looks fine on Robert Jones's simple but versatile set, the whole thing remains oddly stilted and lifeless. I believed in the themes, and I think the ground covered – about the compromises of school and the terrible manipulations of the English education system- are addressed too rarely in theatre. But I absolutely don't believe in these people. They seem vehicles for changing attitudes rather than rounded human beings.
In particular, it seemed to me inconceivable that two women who were supposedly close could become bitter enemies so quickly simply so the play can race towards a conclusion that has one entirely predictable ingredient and one ridiculously melodramatic. Even in a dark comedy, you want to feel there is a logic to proceedings. Only Daon Broni's gentle Nick, the eternal conciliator, is ultimately believable, perhaps because he is the most consistent character on stage.
It's a great pleasure to be back in this space, so convincingly remodelled. But there will be many better evenings to be spent there than this one.