Indhu Rubasingham: 'I've never had a plan'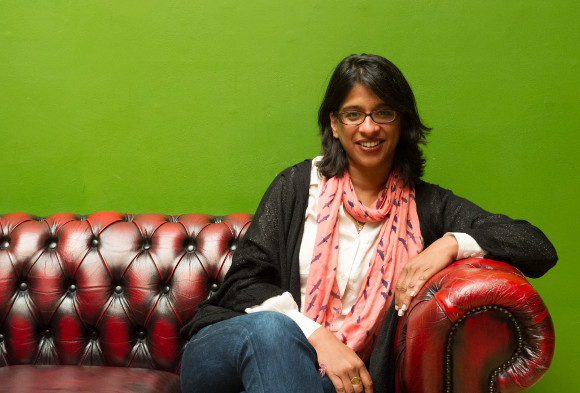 Indhu Rubasingham hasn't had any breakfast. "You can tell I've only had a coffee this morning," she laughs at me. You can: the caffeine has clearly got through to the Tricycle Theatre's artistic director, who has powered through our interview. The morning I meet her, Rubasingham is on fire.
Which might be how you'd describe Rubasingham even without her morning cuppa. Since becoming boss of the 235-seater space in Kilburn in 2012, she has scored an impressive number of hits from Paper Dolls back in 2013 to West End transfers such as Handbagged and current show The Father as well as New York transfers such as Red Velvet. This summer she found time to head over to the National Theatre to direct the exceptionally sweary The Motherf**ker With the Hat. She has also dealt with a fair amount of controversy – most notably in the row over funding for the UK Jewish Film Festival last year.
But during our interview, in the bare rehearsal room upstairs at the Tricycle, she's keen not to dwell on the past. Which is fair enough, because her present is more than a little busy. A Wolf in Snakeskin Shoes, a gospel-soaked, contemporary adaptation of Moliere's Tartuffe, by Marcus Gardley, opens this week and is directed by Rubasingham. "I've been wanting to do one of those for years. I love Tartuffe," she explains. "[Marcus] said he'd really like to set it in that mega church world. He's literally the son of a preacher, which means he knows that world so well."
The show stars Lucian Msamati as Archbishop Tardimus Toof and Sharon D. Clarke as Lady Toof. "Sharon D. Clarke singing in the Tricycle!" exclaims Rubasingham, "Sharon was in the first play I ever professionally directed. Working on it has been a total joy, it's like working with family."
Being surrounded by people and plays she likes is important for Rubasingham: "The best bit of advice I got [when I started] was from Nick Hytner. He said 'make sure you programme what you want, what you believe in, make a splash, don't try and second guess'."
Three years into the job and 44-year-old Rubasingham feels almost as though she has settled in. "I think I'm a slow learner, I take longer than most people," she laughs. But, she says, she still gets scared ahead of an opening: "I'm always scared, it just doesn't go away. I think it gets worse. Expectations get higher. When you're a freelance director, you want it to be really good and audiences to see it, but the implications aren't as big."
That may be, but Rubasingham doesn't look like someone struggling under the weight of leading one of London's most dynamic theatres. Funny, down-to-earth and incredibly welcoming, she is eloquent and realistic in the way she talks about theatre. "I need more balance in my life," she sighs, "that's my next ambition."
It's a sensible one, although quite how she'll achieve it is anyone's guess. She's been head down with A Wolf in Snakeskin Shoes, after that there's the Christmas show Ben Hur and the new season – in which she's directing Pulitzer prize-winner Ayad Akhtar's The Invisible Hand – kicks off in January.
Behind the scenes at A Wolf in Snakeskin Shoes
When I ask if there's one thing she'd like to make sure she achieves during her time at the Tricycle, she talks about Minding the Gap. It's the theatre's programme for young, recently arrived migrants, refugees and political asylum seekers who aren't in the school system yet. "Unless you give them access into education and the culture of the country, what's going to happen?" she asks. "I only got into theatre through an experience with school. Without that I don't know if I would be here today." Her goal? "My dream is to get someone from Minding the Gap to become part of the young company, then to get a job [at the Tricycle], or want a career in theatre."
But what about her own future? Her predecessor Nicholas Kent stayed in the job 28 years: "People should have plans, but I've never had a plan, I didn't even want to be an artistic director, and then I changed my mind. I'm just going to do this until they go 'we've had enough of her!'" That moment, I think it's safe to say, will likely be a long way off.
A Wolf in Snakeskin Shoes runs at the Tricycle Theatre until 14 November.