Review: Ghost Stories (Lyric Hammersmith)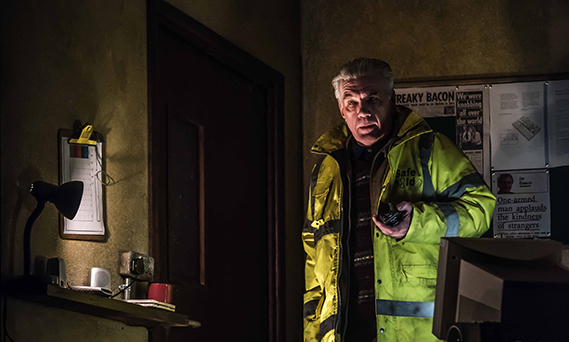 If, like me, you tend to respond to situations of extreme stress and fear with unseemly laughter, then you'll have a hysterical time at Ghost Stories. Alternatively, you might just scream yourself hoarse or wet your seat. Nine years after it was first presented there, Andy Nyman and Jeremy Dyson's immensely skilful stage nightmare has returned home to the Lyric Hammersmith, stunningly directed again by Dyson, Nyman and Sean Holmes.
The original production transferred into the West End for a lengthy run, and I wouldn't be at all surprised to see history repeat itself: this show is a bona fide crowdpleaser. It is fascinating that so many human beings will part with their hard earned cash to be scared out of their wits, and this terrifying interval-free 80 minutes represents excellent value for money.
It is, if anything, even more impressive this time around, the advances in theatrical technology within the last decade meaning that the tension created by Nick Manning's deeply unsettling sound design, James Farncombe's murky, atmospheric lighting and Scott Penrose's ingenious special effects, is ratcheted up to almost unbearable levels. Jon Bausor's revolving, constantly transforming set, which carries on its theme – explained in the course of the play – of chalk-written numbers, police tape, and eerily flickering lights, out into the Lyric's auditorium and beyond, is another key factor in the production's grim but irresistible appeal. This is also the only time I can remember – apart from Waitress – where a stage show engages an audience's sense of smell, although what assaults your nostrils here is definitely not as comforting as the aroma of freshly baked pie.
Originally, Nyman himself brilliantly played troubled academic Professor Goodman who kick starts the evening with a light-hearted but increasingly uneasy lecture on the nature of fear and the enduring appeal of ghost stories. Succeeding Nyman, Simon Lipkin is magnificent, more of an obvious showman maybe but a charismatic presence who engages the audience with great panache right up until….well, you need to see for yourself.
Goodman presents a trio of apparently (at first) unrelated stories of the supernatural, and if the build up of tension in the first two is more impressive than the final outcomes, the whole evening rises to a crescendo of horror that authentically leaves the audience open mouthed with shock. It's very cleverly done.
In amongst all the screaming, there is some beautifully realised acting. Garry Cooper is particularly fine as a lonely, guilt-wracked night watchman. Preston Nyman (Andy's son – talent is clearly genetic: Nyman's daughter Macy was also superb in the Menier Pack Of Lies last year) delivers an impressive display of mounting panic as an insecure teen trapped in a broken down car on a deserted forest road in the dead of night. If Richard Sutton pushes a bit hard as a ruthless, go-getting businessman in the final section, he redeems himself with a vivid about-face that may leave you reeling.
All in all, this is an evening that is out to make the hairs on the back of your neck stand up, and the pit of your stomach lurch uncomfortably. It succeeds triumphantly. If that is your idea of a good time, then you're going to love it. More sensitive souls should approach with caution.