Review: Gently Down the Stream (Park Theatre)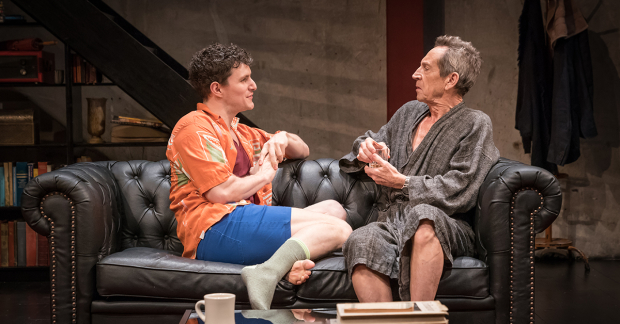 Forty years after the debut of his best-known play, Bent, Martin Sherman is back on the London stage chronicling the gay experience through history. While his landmark work of 1979 highlighted the persecution of homosexuals during the Holocaust, Gently Down the Stream is here to signal just how much conditions had changed for many gay men by the time the 21st century rolled around.
Sherman's modern romance imagines an older American gent living in London in 2001. Beau (Jonathan Hyde) goes online dating and finds a much younger man, Rufus (Ben Allen). While Rufus is from Generation X and comparatively free to pursue his sexual desires, Beau calls himself "destroyed by history": he's scarred by decades of homophobia and lost lovers; lives taken by AIDS or violence.
They make for an amusing odd-couple – and that is excuse enough to go along and watch this witty play which is directed by one of Sherman's old buddies, Sean Mathias.
Hyde brings ravishing, noir-ish charisma to Beau: a cocktail-bar pianist in his 60s who watches the world go by and tells stories in his southern American drawl. Allen pours lots of manic energy into Rufus – but the character's gradual development through the 13-year plotline is rewarding to see.
Rufus desires Beau not just because he's into 'daddies', but because he romanticises the past. But for Beau, the past was a dreadful time; and anyway, if you didn't live it, you can't understand it. While the cynicism of the older man tells him that no relationship could ever work out between two people born of such different eras, Rufus is from an entitled generation – and he's persistent.
What is at first a simple will-they-won't-they story gets more interesting with the appearance of a young performance artist (Harry Lawtey), who's closer in age to Rufus, shares his values, and might be a better fit than sentimental old Beau after all. It seems the big question in Gently Down the Stream is whether a disparity in lived experience is a barrier to a lasting relationship. Or, to phrase it more provocatively: how deep and meaningful can a daddy/son romance be?
The question is asked in subtle ways, and the play's messages are painted in brushstrokes so fine that they risk being missed. At one point, Rufus whinges that he doesn't know if he acts gay enough for society these days. These words fall on the deaf ears of a man who was once exiled for his own family for being a 'faggot'. You wonder if there could be more indignance from Beau; more conflict.
However gentle, this is a diverting watch all the same. Hyde's solos provide the tenderest of the tender moments. Alone on stage, his haunted character recounts hard times gay men faced through the decades of the 20th century. The soliloquies appeared to visibly affect certain older audience members; and for the younger ones, they're a worthwhile history lesson on the fight for LGBT rights.