Review: Come From Away (Phoenix Theatre)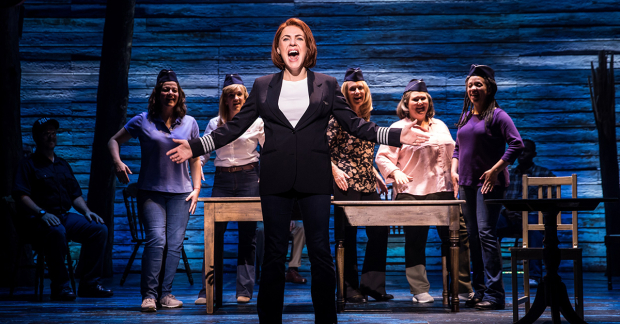 The worst and the best sides of humanity were there to be witnessed in September 2001. While the TV cameras were fixed on the aftermath of the terrorist atrocities in America, north of the border, residents of one tiny Canadian town were to be found quietly providing shelter for some 7000 air passengers who suddenly got stranded there after US airspace was closed.
Irene Sankoff and David Hein's musical Come From Away tells that beautiful tale of lost travellers finding hospitality in what seems a totally unexpected place: Gander, Newfoundland. A hugely uplifting watch – and a hit on Broadway – the show is also a parable many will see as fit for our times. It valorises the small-islander who opens their front door to perfect strangers – or in Newfoundland parlance, "come from aways".
The show heaves with memorable characters. Both the natives and their visitors from all over the world are inspired by the personalities involved in the real story. Meet Gander's mayor, its two cops, its stubborn bus driver, and its sole news reporter. As the show's best number makes clear, this lot live on something of "a rock". But it's clear that provincial doesn't always mean narrow-minded.
The stranded travellers include Nick and Diane (for whom lasting romance blossomed in the most unlikely of situations: just look them up) as well as a gay couple fretful of entering a "backwater", and a Muslim man who's treated with sudden suspicion and hostility. In these and other characters, we learn of how some of these 7000 went on to change the lives of their hosts, and vice versa.
In this respect, the niftiest touch from director Christopher Ashley is the seamless transitioning of a single actor between characters on different sides of the story – with simply the addition of a hat or cardigan. Indeed, the spectacle is flawless all-round – thanks to a vast list of producers and choreographers.
The music itself is inflected with all kinds of worldly influences, but its primary flavour is toe-tapping Gaelic in reference to the Irish heritage of Newfoundland (in the writers' eyes, we are all immigrants somewhere along the line). Showing that it's possible to write a song about anything if you try hard enough, many of Sankoff and Hein's lyrics focus on mundane things like getting drunk and twiddling thumbs on a grounded aeroplane. At times there is a risk that the overarching tragedy of the moment will be lost amid the wise-cracking about smelly socks and overburdened public toilets. Death and destruction really do feel a long way away.
For that reason, it's good that there are at least a couple of serious tonal shifts – with space given over to the New York mother desperately seeking news of her son in a pre-mobile phone age, and to the pioneering female airline captain who appears to have lost her love of flying.
But it hardly seems fair to single out individuals in what is a stellar team effort (in a show which is, of course, all about the importance of team efforts). Whether always in touch with the realities of the world or not, Come From Away is wonderfully sung and produced. Most importantly of all, it has a feelgood factor that simply doesn't let-up. In divided times, that's a powerful antidote indeed.