Review: Blaas (Blow) (Moulsecoomb Community Leisure Centre)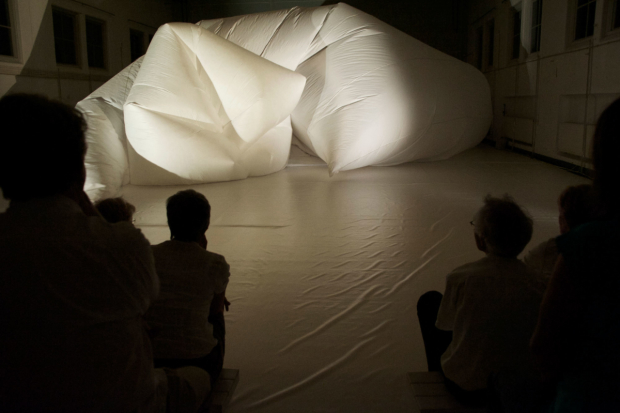 It's official: the star of Brighton Festival 2018 is a big white blob full of air. Hailing from the Netherlands and receiving its UK premiere in Brighton, Blaas is like nothing else I've seen. A collaboration between director Boukje Schweigman and designer Cocky Eek, the immersive piece uses skills from puppetry and visual art to play with volume, weight and space, involving its audience in a close encounter of the most surprising and moving kind. In the end, you're not so much affected by Blaas, as delivered by it.
Installation gallery Fabrica would have been the obvious choice for a work of this kind. Instead, we're seated in a sports hall in the Brighton suburb of Moulsecoomb, basketball hoop to the left, nets to the right. The choice of location feels bold and meaningful. It gives what happens next something of the rift-in-reality quality of Stranger Things – though the weirdness of Blaas is wonderfully benign.
It starts with a huge pile of white fabric. Slowly this starts to twitch, then swell. You watch it as carefully as you watch a chick hatching, or wait for egg white stiffen, attuning your attention to tiny changes in the surface and texture. Somewhere, somehow, life is being breathed into it. As its folds un-crease and its fabric rustles, the strengthening form starts to grow towards us across the sports hall floor.
In Dutch, Blaas means blow/breath, but also bubble. Eeek, a fashion designer turned visual artist, is fascinated by wind and air. Director Schweigman, meanwhile, is interested in space and time. So Blaas is both a ballet of lightweight volumetric forms, evoking the sound and movement of breath, and an experiential mediation on the boundaries between outside and in. The plastic shoe covers crinkling on our feet, ostensibly to protect the white fabric, invite thoughts of operating theatres: those thresholds between outer and inner, where breath ceases for good, or starts for the first time.
It would be a violation to describe what happens next. Blaas is powerfully enigmatic, and a masterwork of choreographic precision. It's also got a sense of humour. Wondering how the hell co-creator Ibelisse Guardia Ferragutti and her fellow performers are doing it is all part of the experience. Even when you are invited right into the heart of the show, and trusted with a series of delightful reveals, the sense of mystery is never quite punctured.
To some extent, like shapes in the clouds, it is also an experience onto which you project your own mental state. One audience member finds it "almost too powerful", while others are still grinning to themselves in the car park. You are contained and brought together as a group, but also free to follow your own chain of associations, in time with Jochem van Tol's subtly evocative score.
If you could reduce Blaas to a single experience, you might compare it to friendly alien abduction, or perhaps seriously arty zorbing minus the hill. This is also the only theatre review in which I've ever reached for the adjective 'cervical'. But really, descriptions don't cut it. Cross 'swimming with dolphins' off your bucket list and replace it with Blaas: it feels rarer, and realer, somehow.
Blaas (Blow) runs as part of Brighton Festival until 20 May.