Forbidden Broadway (Vaudeville Theatre)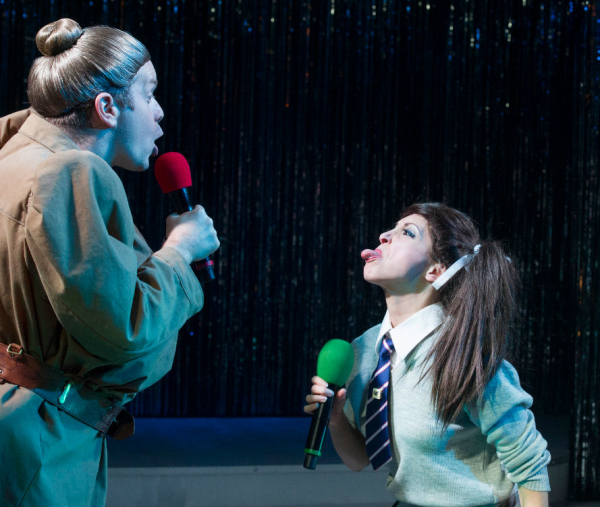 My first glimpse of Forbidden Broadway was during a long-forgotten documentary about New York theatre that included a clip of its infamous Les Mis skit "Bring It Down", in which a falsetto-ing Jean Valjean pines "pity me, change the key". It was love at first sight, and when I saw it live for the first time, at the Menier Chocolate Factory five years ago, my affections were confirmed.
So it's a pleasure to report that this latest incarnation, which has transferred from the Menier to the West End, feels at once fresh and bang-up-to-date, while containing no shortage of nods to the show's rich history – including a superb rendition of "Bring It Down" by Damian Humbley.
The targets this time round include The Book of Mormon, riffing on the arrogance of its creators Matt Stone and Trey Parker, and Once, which sees the actors decrying having to play their own instruments. Creator Gerard Alessandrini also dusts off some Miss Saigon material, replete with toy helicopter, and has Matilda, Billy Elliot and Gavroche trilling in unison about their precociousness ("my daddy says I'm a triple threat…").
The lyrics are consistently sharp, showcased in the singalong Sondheim number "Into the Words", while the virtuoso turns from new cast member Christina Bianco as Kristin Chenoweth and Bernadette Peters are top drawer.
There are also strong showings from Ben Lewis as Robert Lindsay and Hugh Jackman, Anna-Jane Casey as grande dames Liza Minnelli and Angela Lansbury and Humbley as 'Ho Chi Cameron', making the "Americans Cream" as he awkwardly clambers on the piano (played superbly by Joel Fram).
It's undoubtedly an evening for theatre fans, and a working knowledge of the shows in the satirical spotlight certainly aids enjoyment. It also feels slightly over-stretched in terms of length and is arguably a little underpowered for a full proscenium venue. But when a show is able to induce such audible affection in its audience, who am I to quibble?
The irony of Forbidden Broadway taking a pop at the longevity of Les Mis when it's been going for just as long is not lost, but I'm sure it'll be "ten years more" for the both of them.