Circus 250: head stands on trapezes and disastrous falls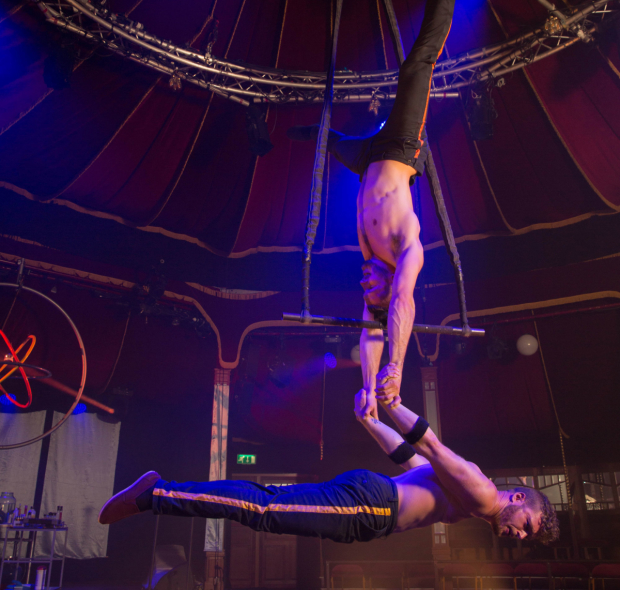 This year marks 250 years since the start of modern circus. It was in 1768 that Philip Astley began his circus entertainment in Waterloo in London. To celebrate, here's the latest in our new series of pieces from circus performers explaining a little about the history of their discipline. Here's Head First Acrobats' Thomas Gorham on the Washington trapeze.
---
It seems impossible that someone should be able to balance in a headstand on a swinging trapeze but that is exactly what the Washington trapeze is. It combines the trapeze with head balancing, which is defined as standing on your head without the use of your hands to balance and it's spectacular to see.
I was introduced to the Washington trapeze at the National Institute of Circus Arts in Melbourne by my coach, Mr Guang Rong Lu. It's believed that the name comes from the artist Kaye Washington who invented the discipline in the nineteenth century though not much is known about its history and in fact it's called the head trapeze in China, and in Russia it's the heavy trapeze.
A fall could be disastrous – you are metres off the floor, balanced on a thin trapeze on your head
Mr Lu had seen me perform headspins – the breakdancing move where you spin on your head – and suggested I try Washington trapeze, one of his specialisms. At first I said he was insane and I decided to pick hand balancing instead. He laughed at me, he said he'd teach me handstands but that Washington trapeze would be a much better choice. It turned out he was right (he usually is). I swapped from hand balancing to Washington trapeze in my 3rd year at NICA and have been performing it in my shows ever since.
I have been lucky to not have had any falls whilst performing. A fall could be disastrous – you are metres off the floor, balanced on a thin trapeze on your head and swinging, often over the audience like we do in our show Elixir. Due to the nature of the discipline, it should theoretically be difficult to fall. You must concentrate 100 per cent when you're doing a head balance so doing one on a swinging trapeze requires absolute attention to the task at hand. You have to know what every one of your muscles is doing, be aware of every shift of your body and be so conscious of yourself. I think this level of concentration is the main reason I've never had an injury doing Washington trapeze.
It's over 150 kilos of weight going straight through my partner's spine
A day in the life of a Washington trapeze performer involves a lot of basic conditioning. You need to do a lot of head balancing and hand balancing timing to gain the confidence to do it on a trapeze. Now I've mastered the skill I rarely practice with an actual trapeze, I find that trying hard positions on the floor and in headspins is more than enough to keep up my Washington technique.
One of the tricks that we do in Elixir is very difficult. Basically my Washington trapeze partner, Cal Harris, holds me in a back lever position while he does a headstand on the trapeze. Normally when people do this trick the flyer of the trick is very small (40 kilos or so), but Cal is such a monster he has no trouble supporting both my 69 kilos and his 87 kilos! So balanced on the bar on his head, Cal takes my hands as I lift myself to be parallel to the floor, several feet in the air. That's over 150 kilos of weight going straight through his spine.