250 years of circus: The death defying feats of early handbalancers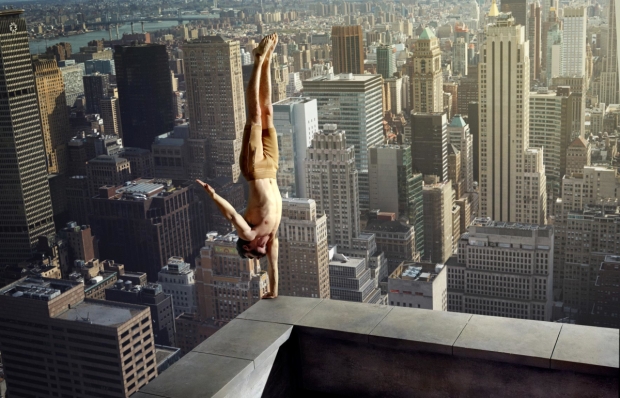 This year marks 250 years since the start of modern circus. It was in 1768 that Philip Astley began his circus entertainment in Waterloo in London. To celebrate, here's the latest in our new series of pieces from circus performers explaining a little about the history of their discipline. Here's Sammy Dinneen on the death-defying art of handbalancing.
---
Handstands may sound like a ridiculously niche skill but they are actually a staple of many circus disciplines. My handbalancing journey started through breakdancing. Aged 16, when I was living in Edinburgh, I took advantage of the amazing Edinburgh Fringe programme to catch a few circus shows. I loved what I saw! I auditioned for the National Centre of Circus Arts in London and was accepted.
In simple terms, handbalancing is the art of being upside down with all your body weight balanced on the hands. Originally handbalancers would perform with a curved back (a banana) which meant that they were using their strength to control the balance. When the circus arrived in towns, artists would march through the streets to offer a taster of the show and lots of the acrobats would walk on their hands. Audiences wanted to be amazed by acts of awe-defying strength and the seemingly impossible. Handstands were the obvious way to dazzle and the acrobats started performing headstands, shoulder stands and handstands on the back of a horse, on the head of a tight wire artist or on the hands of a strong man.
He performed a no-handed headstand on top of the Empire Building in Calcutta
In the early 1900s, a circus artist called Professor Paulinetti was one of the first ever people to perform a full handstand act. He was also the first man to perform a one-handed handstand – people had laughed at him when he said he would master this! Not only did he accomplish a one-arm, he also performed the one-handed planche, one finger handstand and a handstand on just his thumbs on the tip of juggling clubs. One of his most crazy feats in 1920 was to perform a no-handed headstand on top of the Empire Building in Calcutta, India.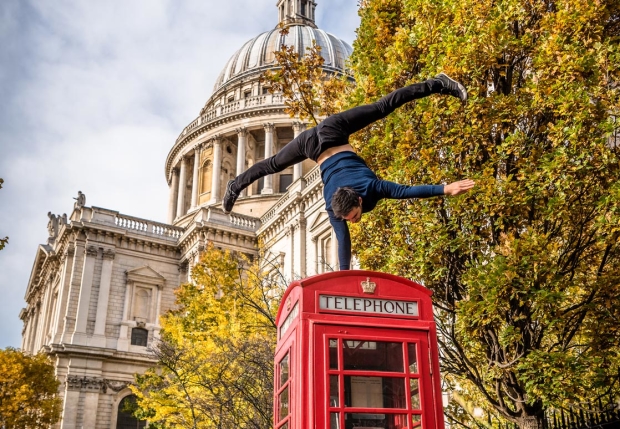 In the 1940s, the next big name in the handstand world was Little John who performed handstands while juggling with his free hand and feet or backflipping between platforms, landing on one hand. In this era, skills started to become wilder and more challenging.
It's only in the last forty years that the form has shifted to being about a perfectly straight line – handstands as we know them today. This means using less strength but being much more accurate with balance. Now, artists are trying to be more creative with handstands – using music and creating work where it looks like they are dancing on their hands. Acrobats now perform on the floor, on canes as high as four metres, on stacks of chairs up to nine metres, really using anything creative that it's possible to balance on! Handbalancers have moved with the times and are constantly trying to innovate with their skills, equipment, movement, performance and props.
One of the key artists to pioneer these changes was Anatoly Zalievsky; he was one of the first handbalancers to perform a beautiful floor-based act with piano music that incorporated dance. Now we have so many different styles that handbalancing as a discipline is constantly evolving.
I draw on skills from my breakdancing background
I perform worldwide and have been lucky enough to work with some of today's top circus artists and companies. When I started at the National Centre of Circus Arts I eventually picked my specialisation as handbalancing – I love the feeling of mastering the impossible and now that I also teach I take so much pride in being able to help others achieve skills they never thought they could. It was the right choice for me as I've gone on to perform worldwide in shows including Batman Live: The World Tour, Traces by The 7 Fingers where seven performers never leave the stage, Tony award-winning Pippin (US Tour), Filament (top 10 best-selling shows of Adelaide Fringe 2017) and Throwback by Silver Lining.
But I'm always trying to challenge myself. Musicality is really important to me and I enjoy connecting with the music to push my creativity. One of the things I like doing is drawing on skills from my breakdancing background to create fast, upbeat acts – something that isn't done often in handstands. Handstands are usually quite slow and I want to change that to make them fast, sharp and explosive.
Sammy Dinneen regularly performs in London at Café de Paris, The Crazy Coqs and Circus Restaurant. Follow him on twitter @sammydinneen to see where he is performing this week. Or check out www.sammydinneen.com for more information.