The World of Extreme Happiness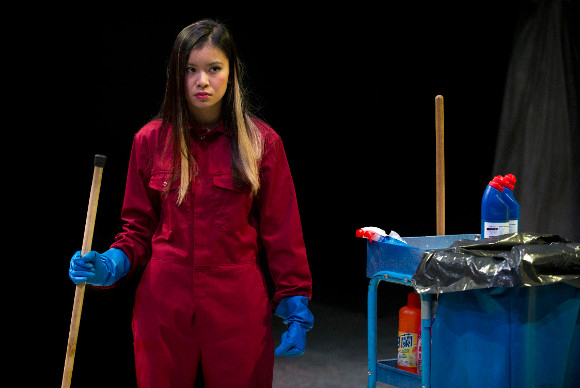 This is one of the very best new plays of the year, and it's no accident that, like Lucy Kirkwood's equally remarkable Chimerica, it focuses on modern China in the compelling Brechtian parable of a lowly sanitation worker, Sunny (Katie Leung), who follows a dream, leads a protest movement and pays an ultimate price.
The Chinese/American playwright Frances Ya-Chu Cowhig came to notice at the Edinburgh Festival three years ago, when her first play, Lidless, revealed a talent for political chickens coming home to roost in the bruising encounter, in the aftermath of Guantanamo Bay, between a female American soldier and an abused Muslim detainee.
Sunny's world of extreme happiness is a construct of post-Maoist exhortation to succeed in the new capitalist adventure; coming from the country, she works in a factory producing toys where the eleventh suicide that month has left his activist petition behind.
As an unwanted baby girl, she is thrown in the bin with the pigswill. But she's rescued, goes on a "life-changing" game show, attends a white-collar class on etiquette, gains promotion in the toilets by offering sexual favours to her immediate superior (an unexpected climax to Act One) and delivers a rousing speech about change, challenge and destiny in the Great Hall of the People in Beijing.
Running parallel to this – and beautifully delineated in both Cowhig's writing and the smart, savvy production of Michael Longhurst – is the story of her father's racing pigeons, her brother's thwarted aspirations to be an opera singer, and her marriage to the dead son of her old aunt, a crabby sort of Mother Courage with a cartload of aphorisms.
Typically of the play's sardonic sleight of hand, that last role is doubled by Sarah Lam (fresh from Chimerica) with a Beijing business executive who is abducted by enemies. Everyone seems to have a mantra, or a power plan, or backlog of disappointment; and your fate is sealed by the family you come from; hard luck if you're a woman.
Another refugee from Chimerica, Vera Chok, wittily plays various facilitating characters in Sunny's progress, while the resourceful and appealing Katie Leung is brilliantly supported by Daniel York as her pigeon-fancying father, Chris Lew Kum Hoi as her brother, lover and nemesis, with Junix Inocian looming as ferocious boss figures.
There's an unusual freshness and bright savagery about the writing that marks it out as something special, and a sense of ambition and scale, too. For once, I felt a play could have been longer, though; there is a sense of accelerated compression, even after two hours plus.
But with notably high standards of design (Chloe Lamford), lighting (Philip Gladwell) and sound (Max and Ben Ringham), this looks like another highlight in the successful debut season of the big red Shed which, I understand, will be moving elsewhere in the capital under the NT's aegis once the Dorfman (formerly the Cottesloe) re-opens next spring. It's proved an essential risk-taking adjunct.