The Time Traveller's Wife musical in the West End – first look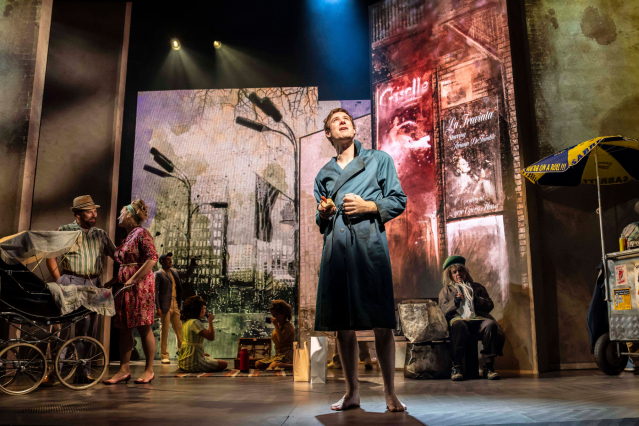 Exclusive: Production shots have been released for the West End premiere of The Time Traveller's Wife, ahead of press night at the Apollo Theatre tomorrow evening, 1 November.
Based on the best-selling novel by Audrey Niffenegger and the New Line Cinema film, with a screenplay by Bruce Joel Rubin, the musical has music and lyrics by Joss Stone and Dave Stewart, with a book by Lauren Gunderson. It follows a woman who is married to a man thrown about through time with little control over where he lands.
The cast is led by David Hunter (as Henry) and Joanna Woodward (as Clare), alongside Tim Mahendran (as Gomez), Hiba Elchikhe (as Charisse), Ross Dawes (as Henry's Dad), Sorelle Marsh (as Henry's Mum), Alwyne Taylor (as the Librarian), Irfan Damani (as Clare's Dad), Alexandra Doar (as Clare's Mum), Alex Lodge (as Jason/Mark), and Helena Pipe (as Dr Kendrick).
The company is completed by Billie Hardy, Daniel George-Wright, Serina Mathew, Nathaniel Purnell and Bobby Windebank. The role of Young Clare and Alba will be shared by Ava Critchell, Lily Hanna, Poppy Pawson and Holly-Jade Roberts.
The Time Traveller's Wife features additional music by Nick Finlow and additional lyrics by Kait Kerrigan, while the production is directed by Bill Buckhurst and designed by Anna Fleischle, with choreography by Shelley Maxwell, lighting design by Rory Beaton and Lucy Carter, illusions by Chris Fisher, video design by Andrzej Goulding, sound design by Richard Brooker, sound FX design by Pete Malkin, musical supervision and arrangement by Nick Finlow, orchestrations by Malcolm Edmonstone and wigs, hair and make-up design by Susanna Peretz. Casting is by Grindrod Burton Casting.
It is produced in the West End by Colin Ingram, InTheatre Productions, Gavin Kalin Productions, Teresa Tsai, Warner Bros. Theatre Ventures and Crossroads Live.
Tickets are on sale below.