The Scouse Dick Whittington at Liverpool Royal Court – review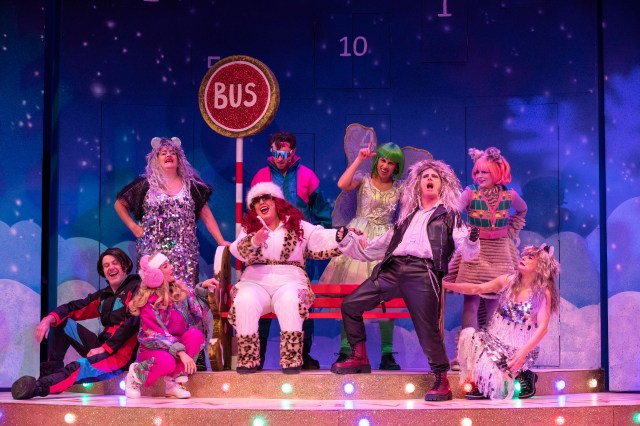 No matter how many 'dick' jokes you might anticipate them making, you won't get remotely close to the actual number they manage to achieve. Whatever that actual number is. A hundred? A thousand? It's impossible to keep count of the innuendo onslaught.
The "deffo not for kids" advisory is the only subtlety and understatement about the show. The rest is a loose and lairy retelling of the story about a young man who rescues his town from a rat infestation.
That's not to say this Whittington's entirely without wit. Andrew Schofield's King Rat coolly threatens: "The cats might have the cream, but they'll also have the crem." and smugly asks "Am I right or a meringue?" There are mishaps with set and unreliable stage crew who miss cues, though it's slightly forgotten about in the second half.
It never gets quite as subversive and self-ironic as its adult pitching would allow. The classic panto ingredients – audience interaction, a magical narrator, local city references – are reused rather than retooled. There are traces – Lindzi Germain bellows, "Speaking of foul play, can we get on with this one?" and, blunter still, "Who wrote this shit?" – but it mainly goes no further than foul-mouthed. It's occasionally jarring watching a fatuous children's story told to grown-ups, without elevating and dressing it up.
Whizzing through songs and locations sustains the energy, but makes for a head-spinning stream of action. There are breakneck renditions of nearly every karaoke hit. The boundless gallivanting enables sketches including a Sound of Music parody with yodelling Austrian goatherds, where Schofield's goat-sized prop dentures amusingly prove a mouthful. But again it can feel deliriously freewheeling.
The sense of slight messiness also appears in director Mark Chatterton not always seeming sure how to use the stage and move the cast around it. There are lots of moments of two characters ambling across the front of the stage like stand-ups. But Lucy Thatcher's choreography is consistently strong, matching the brightness of Olivia Du Monceau's set which uses traditional 2D panto design – except here even the deer cutouts are making love, in an appropriately tongue-in-cheek touch. It's lifted by Jamie Jenkin's video projections, which offer more variety in hurtling us through the story and settings, along with some slapstick puppetry.
It lacks a principal force to hold the whole thing together. That'd usually be the protagonist, but Adam McCoy's Dick isn't a particularly captivating hero, played as a perma-smiley, goofy big kid that falls flat for adults. It's Schofield's villain who, if he doesn't ultimately steal the treasure, steals the show. He stands out for his grey Rod Stewart-esque shaggy mane, and the only one without the Scouse accent, using a raspy RP that balances camp and sinister. His neutral delivery nicely offsets the ripeness and crudeness of the puns, making them absurd without begging for laughs.
A panto where parents have to pay for a childminder. But, on the whole, it's worth their fee.