The Hoarder (Tour – Stephen Joseph Theatre)
The Hoarder is a bold piece of physical theatre in which, surprisingly, for the first 20 of its 70 minutes, no one moves – in the sense of actually changing position. Downstage right Jenni Molloy plays her double bass, beginning with a fractured version of Country Gardens, while downstage left the gardener himself, Andy (Leigh Symonds), joins her in creating live sound effects and a sparse commentary on the man sleeping in a chair between them. He is Richard (David Glass), the hoarder, who finally wakes, rolls up his army blanket and starts to watch Countdown.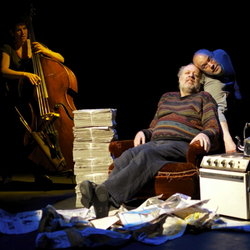 The first production of Sticks Theatre Company, founded last year by Adam Sunderland, is based on the life of Richard Wallace, a compulsive hoarder, whose unlikely friendship with Andy Honey helped him tackle his condition after Andy was tasked by the local Village in Bloom committee to erect a fence to hide the eyesore of Richard's garden.
Devised and directed by Sunderland and David Glass, The Hoarder has a certain narrative flow, with such key events as Richard (very surprisingly) inviting an initially reluctant Andy into his house and Richard actually suggesting throwing something away – a contact lens! However, the main purpose is to give a compassionate insight into the emotional fragility of the hoarder and the development of his unlikely friendship.
This is rendered by few words, much music and sound effects, minimal props and imaginative use of movement, hoarder and visitor undertaking perilous journeys through the tunnels and cliffs of the hoarder's house. Ultimately, Richard makes a key decision – to bring out and use the bed he has never found room for – and the play subsides gently into sleep as the double bass repeats a hypnotic phrase.
Such dialogue as there is doesn't lack humour: for instance, Richard's obsession with Countdown almost amounts to a running gag. His distance from normal human company is shown in the incomplete sentences and hesitant pauses in Glass' sympathetic performance, while Symonds as Andy begins with the delicacy of a man walking on eggshells and progresses to wrestling with Richard to throw out (invisible) objects.
The Hoarder wishes to make the case for non-judgemental treatment of people who suffer from the condition – "they are not dirty lazy people," affirms the programme – and does so very successfully.
After Scarborough, The Hoarder has further Yorkshire dates at the Square Chapel, Halifax (9 May), the Lawrence Batley Theatre, Huddersfield (13-14 May), The Carriageworks, Leeds (22 May) and Hull Truck Studio (29 May).