Sondheim's Old Friends – Bernadette Peters, Lea Salonga and the cast answer celebrity questions on opening night in the West End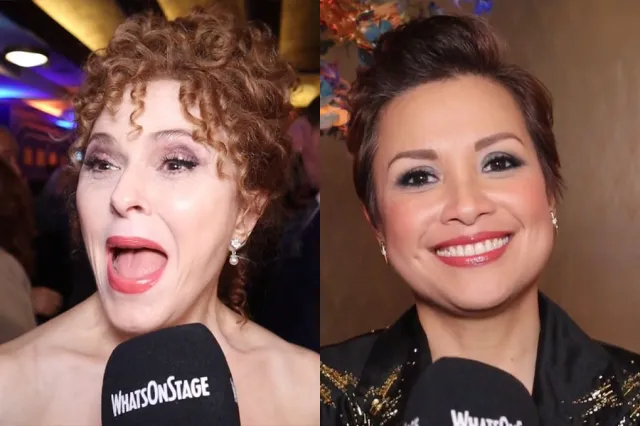 There was a giant in the sky by the name of Stephen Sondheim looking down on London's Gielgud Theatre last night as a multitude of celebrity guests celebrated the official opening of Sondheim's Old Friends.
WhatsOnStage was also on hand at both the blue carpet and the afterparty, so we took the opportunity to gather burning questions from the VIPs in attendance before the show and pose them to the cast afterwards.
You can see the results of our labour in the Sondheim-loving video below.
You can read WhatsOnStage's lead critic Sarah Crompton's five-star rave review here.
Led by Bernadette Peters (in her long-overdue West End debut) and Lea Salonga, the cast of Sondheim's Old Friends includes Christine Allado, Clare Burt, Janie Dee, Damian Humbley, Bradley Jaden, Bonnie Langford, Gavin Lee, Jason Pennycooke, Joanna Riding, Jeremy Secomb, Jac Yarrow, Marley Fenton, Beatrice Penny-Touré, Harry Apps, Bella Brown, Richard Dempsey and Monique Young.
Devised and produced by Cameron Mackintosh and directed by Matthew Bourne with Julia McKenzie, the show features choreography by Stephen Mear and is conducted by Alfonso Casado Trigo, with musical supervision by Stephen Brooker, musical arrangements by Stephen Metcalfe, set design by Matt Kinley, projection design by George Reeve, costume design by Jill Parker, lighting design by Warren Letton and sound design by Mick Potter.
Sondheim's Old Friends continues at the West End's Gielgud Theatre until 6 January 2024, with tickets on sale below.