Sondheim's Old Friends review – perfectly crafted West End love letter to one of the greats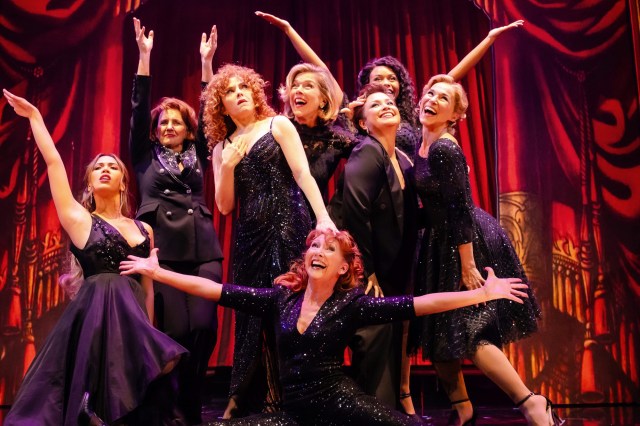 My first encounter with the music of Stephen Sondheim came not with a full-length musical, but with the revue Side by Side by Sondheim in which Julia McKenzie, David Kernan and Millicent Martin offered a sophisticated yet passionate guide to a man who at that point was more cult hero than musical legend. It was 1976, and I was just beginning to get the theatre bug, getting the train down to London to sit in the vertiginous gods and have my mind blown and my heart won over.
I thought about that experience watching Old Friends, a similarly smart and loving tribute to Sondheim, who died in November 2021 at the age of 91. This new show has grown out of a gala tribute of the same name, staged by producer Cameron Mackintosh, and now features a cast of 19 headed by the musical theatre luminaries Bernadette Peters (one of Sondheim's most revered interpreters) and Lea Salonga.
It is a treat. Under the clever direction of Matthew Bourne and McKenzie, it has a drive and a purpose that gives the songs shape and context. The impeccably detailed choreography by Stephen Mear adds a layer of razzle and dazzle, which Matt Kinley's gleaming set design, filled with George Reeve's projections and Jill Parker's stylish costumes all serve to reinforce.
In his dance works, Bourne's ability to convey meaning is always to the fore, and he has coaxed it out of the singers here – whether it is Clare Burt and Gavin Lee perched on high stools and wrenching every ounce of bitter meaning out of "The Little Things We Do Together", a song in praise of marriage that is really about divorce, or Joanna Riding in a sizzling "I'm Not Getting Married Today", sung with blistering meaning in front of an exceptionally oleaginous groom (Damian Humbley) and an excitable wedding party.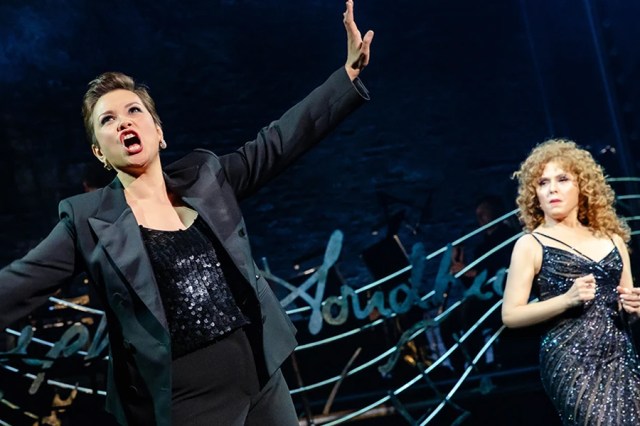 Many individual songs shine out for the luminosity of their interpretation. Peters, of course, is the absolute mistress of finding new ways into every line – Sondheim said she was one of the few people he knew who could sing and act at the same time. She is making her West End debut at the age of 75, when her voice and breath are frailer than before, but she still reveals a lovely way with lyrics, landing in unexpected and always revelatory places.
She breaks your heart with the stillness and surprise of "Losing My Mind", the great ballad of lost love from Follies, but her comic timing is also a joy, as she weaves her way through the "excited and scared" of Little Red Riding Hood's encounter with the Wolf in "I Know Things Now", or painstakingly puts her helmet on the floor and hitches her dress before bumping it with a trumpet in the strumpet's lament of "You Gotta Get a Gimmick".  She also gets to sing "Send in the Clowns", which for sheer lyrical clarity is alone worth the price of entry.
Lea Salonga's pure voice brings resonance to "Loving You" from Passion, and Bonnie Langford wrests every ounce of humour out of Follies' "I'm Still Here", that great tribute to theatrical resilience which mirrors her own trooping career. Janie Dee, meanwhile, walks off with several shows in "The Boy From..", her eyes flashing with understanding as her lips wrangle the unpronounceable words. Jason Pennycooke lends remarkable energy to "Buddy's Blues". But the younger singers shine as well, with Christine Allado, Beatrice Penny-Touré and Bradley Jaden all exceptional in a notably strong ensemble.
Each song has its brilliance but the overall impact of the show – beautifully played by the orchestra, under conductor Alfonso Casado Trigo – springs from the way it knits together a lot of moments into a satisfying whole. It is both a tribute to Sondheim and an exploration of the qualities of curiosity, intelligence, humour and high seriousness that made him a giant of the theatre.