Royal Court 2019/2020 season features three Caryl Churchill plays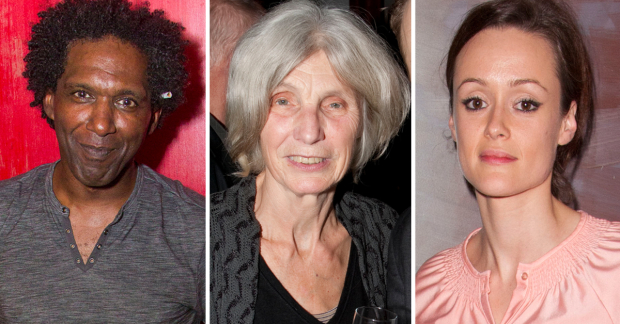 An entire year's worth of work has been announced by the Royal Court, with productions spanning from September 2019 to August 2020.
The season features three new Caryl Churchill plays, Glass. Kill. Bluebeard., which will run together in the Jerwood Theatre Downstairs in September. The pieces will be directed by James Macdonald and will have design from Miriam Buether, costume from Nicky Gillibrand, lighting from Jack Knowles and sound from Christopher Shutt. They follow on from Escaped Alone, Churchill's most recent play which also ran at the Court and was directed by Macdonald.
Tim Crouch also returns to the Royal Court in September with Total Immediate Collective Imminent Terrestrial Salvation directed by Karl James and Andy Smith. Co-produced with the National Theatre of Scotland, the piece arrives in London following its run at the Edinburgh International Festival. It brings audience and actors together to believe in the pages of a book a writer has written. It will run in September and has illustration from Rachana Jadhav.
A History of Water in the Middle East is written and performed by Sabrina Mahfouz and directed by Stef O'Driscoll in October in the Jerwood Theatre Upstairs. The piece is an exploration of who holds the power in and over the Middle East. It runs from 10 October to 16 November.
On Bear Ridge, a co-production with National Theatre Wales, will open at the Sherman Theatre in Cardiff in September, before arriving at the Royal Court in October. The piece, which is written by Ed Thomas, will be co-directed by Vicky Featherstone and Thomas and is set in a lost village, where the local butcher and grocery store stands silent. Cai Dyfan designs the piece, with composition from John Hardy and sound from Mike Beer. It runs at the Royal Court from 24 October to 23 November.
Eve Leigh's Midnight Movie will be directed by Rachel Bagshaw and runs in the Jerwood Theatre Upstairs from 27 November. The piece combines BSL, captioning and audio description and each performance will be in a relaxed environment. The show also connects with an online audience each night.
Gurpreet Kaur Bhatti's A Kind of People will run in the Jerwood Theatre Downstairs between December and January 2020. It is set in a contemporary British community and looks at how to get ahead when the odds are stacked against you.
Poet in da Corner, Debris Stevenson's piece featuring Jammz, returns to the theatre in January, running at the Jerwood Theatre Downstairs before heading out on a UK tour.
Poet Lemn Sissay will also stage a one-off reading of his new memoir My Name is Why, in the Jerwood Theatre Downstairs on 3 September 2019.
In March, Open Court returns with Climate Emergency, a season of work taking place all over the Royal Court building, curated by writers in response to the climate emergency.
Royal Court associate director Lucy Morrison will direct Scenes With Girls by Miriam Battye in which Tosh and Lou talk over 22 scenes in a language they have created. The piece runs from 15 January 2020 to 22 February 2020.
Shoe Lady, written by EV Crowe, will be directed by Featherstone and will run in the Jerwood Theatre Downstairs from 4 March 2020 to 21 March 2020. It looks at Viv who has lost her only shoe. Rare Earth Mettle, written by Al Smith, opens 2 April and runs to 25 April 2020 in the Jerwood Theatre Downstairs. The show will be directed by Hamish Pirie and tells of a leading British doctor with a plan to save the NHS and a Silicon Valley billionaire with a plan to halt climate change.
The provocatively titled Two Palestinians Go Dogging, written by Sami Ibrahim and directed by Omar Elerian will run from 9 April to 9 May 2020. The play, which recently won the Theatre Uncut Political Playwriting Award is set in 2024.
Song project Is In Our Blood will be performed by Dutch singer-songwriter Wende in May. The concept by Chloe Lamford and Wende, is created by Lamford, Wende, Isobel Waller-Bridge and Imogen Knight and has words by Crowe, Mahfouz, Somalia Seaton, Stef Smith and Stevenson.
Pablo Manzi's A Fight Against… is translated by William Gregory and directed by Royal Court associate director Sam Pritchard. It will run in the Jerwood Theatre Upstairs 20 May 2020 to 20 June 2020 and marks the English language debut of the Chilean writer. It looks at whether violence brings us closer together.
A new play by Alistair McDowall, The Glow will be directed by Featherstone in the Jerwood Theatre Downstairs from 29 May 2020. Set in 1863, a woman is locked in an asylum with no idea who she is or how she got there. The play was the 2018 Pinter Commission.
Sarah Hanly's Pinter Commission-winning play Purple Snowflakes and Titty Wanks will be performed by the writer and directed by Alice Fitzgerald in the Jerwood Theatre Upstairs from 29 June 2020 to 11 July 2020.
In July 2020, Is God Is, written by Aleshea Harris and directed by Ola Ince, will run in the Jerwood Theatre Downstairs. It tells of twins Racine and Anaia who travel from the south to the Californian desert in search of a mother they thought was dead.
Nanjing, written and performed by Jude Christian and directed by Elayce Ismail will run in the Jerwood Theatre Upstairs 20 July 2020 to 1 August 2020 before a tour. The piece is a personal response to the 1937 Nanjing Massacre.