Robert Lindsay, Clive Rowe and more among Great British Pantomime Awards 2019 winners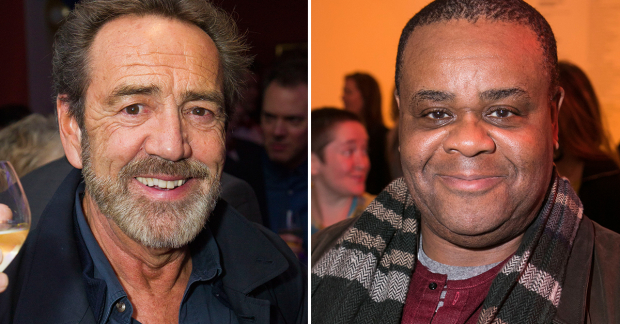 The winners of the 2019 Great British Pantomime Awards have been revealed.
Robert Lindsay, who made his pantomime debut as Captain Hook in Peter Pan in Richmond last Christmas won the Best Male Villain award, while Clive Rowe, who returned to his old stomping ground at Hackney Empire, picked up the award for Best Dame.
The coveted Pantomime of the year award (split into three categories based on venue capacity) was won by Glasgow King's Aladdin, Edinburgh King's Beauty and the Beast and Gordon Craig Theatre's Snow White.
The lifetime achievement award was given to Berwick Kaler, who officially retired as York Theatre Royal's panto dame in February after over 40 years of damehood.
You can read the full list of winners below:
Best dame
Clive Rowe, Aladdin, Hackney Empire
Best female villain
Hannah-Jane Fox, Snow White, Gordon Craig Theatre Stevenage
Best male villain
Robert Lindsay, Peter Pan, Richmond Theatre
Best principal boy
Chris Jarvis, Dick Whittington, Poole Lighthouse
Best principal girl
Harriet Hare, Jack and the Beanstalk, Harrogate Theatre
Best script
Jon Monie, Beauty and the Beast, Blackpool Grand Theatre
Best special effect
Josh Grigg for the magic carpet in Aladdin, Everyman Theatre Cheltenham
Best newcomer
Ella-Jane Thomas, Beauty and the Beast, Loughborough Town Hall
Best ugly sisters
Les Dennis and Connor McIntyre, Cinderella, Opera House Manchester
Best mythical being (fairy)
Jess Robinson, Aladdin, the Hawth Crawley
Best supporting male
Bob Golding, Cinderella, St Albans Arena
Best supporting female
Sam Bailey, Peter Pan, De Montfort Hall, Leicester
Best comic
Ben Nickless, Cinderella, Manchester Opera House
Pantomime of the year – venues over 1500 seats
Aladdin, Glasgow King's Theatre
Pantomime of the year – venues between 750 and 1500 seats
Beauty and the Beast, Edinburgh King's Theatre
Pantomime of the Year – venues under 750 seats
Snow White, Gordon Craig Theatre, Stevenage
Best ensemble
Peter Pan, De Montfort Hall, Leicester
Best pantomime animal
Charlie Raine, Beauty and the Beast, Customs House, South Shields
Best song sheet
Andy Ford, Dick Whittington, Theatre Royal Plymouth
Best lighting/ video
Ben Cracknell, Goldilocks and the Three Bears, Newcastle Theatre Royal
Best sound design
James Cook, Jack and the Beanstalk, Derby Arena
Best costume design
Lily Arnold, Sleeping Beauty, Theatre Royal Stratford East
Best director
Kathryn Rooney, Cinderella, Bristol Hippodrome
Musical achievement
Rick Coates, Peter Pan, Birmingham Hippodrome
Best choreography
Katie Beard, Cinderella, Yvonne Arnaud Theatre Guildford
Best speciality/double act
Ashley Banjo and Diversity, Aladdin, Cliffs Pavilion, Southend-on-Sea
Best staging and set
Victoria Spearing, Dick Whittington, South Hill Park Arts Centre
Lifetime achievement
Berwick Kaler