Review: Poet in da Corner (Royal Court)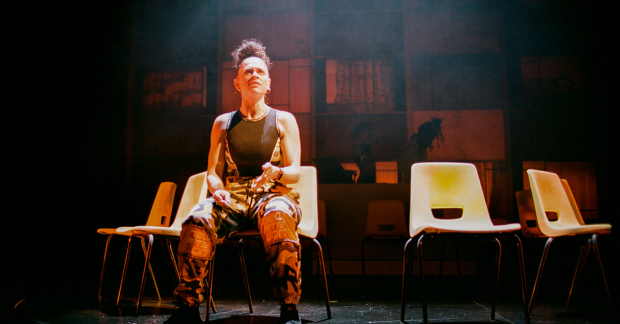 Dizzee Rascal's 2003 album Boy In Da Corner is a stone cold classic. No arguments. It was a massive commercial and critical success, won that year's Mercury Prize, and, crucially, shone a mainstream spotlight on UK grime for the first time, making an international star out of its author and originator. None of that is lost on poet and performer Debris Stevenson, whose new gig-theatre show Poet In Da Corner is a gutsy, gritty breath of fresh air – a galvanising love letter to the music that allowed her to escape her claustrophobic East London upbringing.
Over 75 minutes, Stevenson reworks the tracks from Boy In Da Corner, clinging on to the rhythms, the tunes and a few turns of phrase, but spinning the rest into a semi-autobiographical story of a girl growing up in a severely Mormon household, getting bullied at school, and struggling with her sexuality and her identity.
It's really deftly done. Stevenson is a witty wordsmith, spitting punchy, rapid-fire bars on education, on religion, on politics and everything in between, weaving in a classically structured coming-of-age rebellion story of a repressed teenager finding their voice through music. She's joined on stage by Kirubel Belay and Cassie Clare, who multi-role as various friends and family when they're not hyping the atmosphere up to eleven. Ola Ince's eye-opening production is great, too – using all of the Downstairs stage, it floats in neon crucifixes, spins its cast in circles on bright yellow chairs, and tests the Royal Court's sound system to its limit.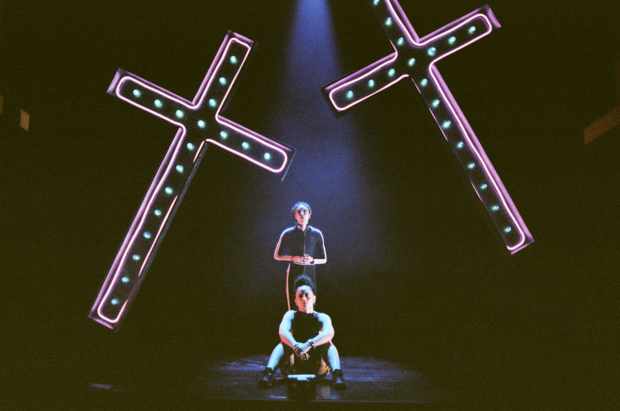 But best of all, Poet In Da Corner is alive to its own innate complications. Is Stevenson, a white, educated woman, appropriating black culture? Why is she allowed to tell this story, and why here? And what does it say that the press night audience was largely white and largely rigid, save for a joyously rowdy crowd in the balcony?
These issues aren't resolved – they're too complex for a 75-minute show to navigate entirely – but they are unapologetically aired, principally through the fictional grime artist SS Vyper, inhabited on stage here by real-life grime artist Jammz. After causing a ruckus, meta-theatrically, from the circle at the beginning of the performance, he's gradually incorporated into the show, ad-libbing humour and challenging Stevenson's right to be there. "Wouldn't be the first time I've been a white girl's inspiring anecdote," he quips, blithely.
Stevenson's great, as are Belay and Clare, but its Jammz who gives this show its right to exist. He holds up a mirror to the theatre's inbuilt hypocrisy, and in an exultant finale, owns the stage himself. A fitting end to an energetic, exuberant gig-theatre show, built with theatrical savviness on Dizzee Rascal's iron-strong foundation.