Review: Three Sisters (Almeida Theatre)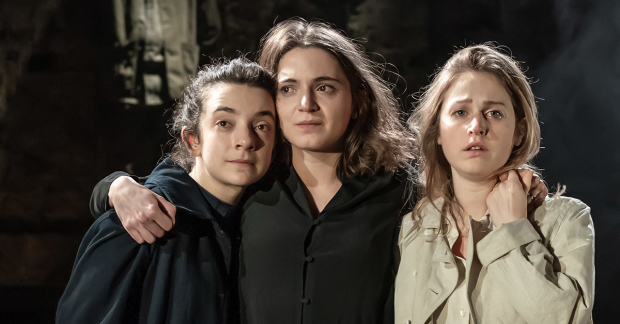 Director Rebecca Frecknall returns to the Almeida following her Olivier Award-winning revival of Tennessee Williams' Summer and Smoke, this time to mount Cordelia Lynn's new adaptation of Anton Chekhov's penultimate and angst-ridden 1901 play Three Sisters.
Chekhov's is a thornier and more sprawling text than Williams', there isn't a will-they-or-won't-they romantic tryst ticking under every scene. It's a slowly shifting piece about bleak existential dread, where the future has to be incessantly fantasised and debated because none of the characters really know what life will bring next.
For the three central 20-something sisters – Olga, Masha and Irina, marooned in a provincial Russian garrison town where their late father was stationed – the fantasy is going back to live in Moscow for the first time since childhood. The trio refers to the city almost reverentially – the capital is their Shangri-La, a promise of prosperity, but one that is inaccessible from their countryside abode.
Frecknall brings along the Olivier-winning Patsy Ferran again too, though Ferran as the eldest of the three Olga has markedly less stage time than her two sisters, played by Pearl Chanda and Ria Zmitrowicz. Ferran puts in a fine performance as the unassuming Olga, but it is Chanda and Zmitrowicz who are the revelations – Chanda pouring a baritone and disenchanted cynicism into Masha while Zmitrowicz, head tilted, has a blunt yet endearing frankness as Irina, desperately unwilling to marry and scorning any potential suitor.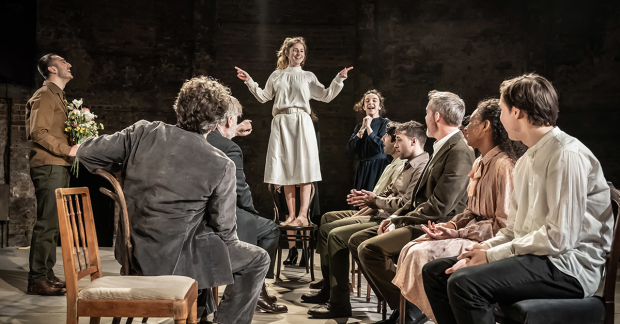 Lynn's largely faithful script takes a while to adjust to – this is a play full of people willing to talk but rarely wanting to listen, meaning characters frequently confess rather than converse. When Masha plucks up the courage to tell her sisters that she has fallen in love with the garrison's Lieutenant-Colonel Vershinin (an earnest Peter McDonald), Olga coldly replies: "I don't want to know. I can't hear you anyway." Everyone feels adrift – from the cuckholded, money squandering brother Andrey (Freddie Meredith) to the ageing doctor Ivan (Alan Williams), who mournfully confesses: "One day I looked up and realised my whole life had passed."
It takes great skill from Frecknall to make it all gel over a near-three hour runtime. Every actor is bringing their A-game, and she ups the pacing in scenes like the town fire before ushering in the quiet tragedy of a botched duel. There are a few rogue elements – Elliot Levey sometimes leans a bit too heavily on the comedy rather than the tragedy of Masha's inept husband Fedya, while some staged photographs are needlessly projected onto the back wall.
What emerges is a slow-burning yet engrossing study of a young family's collapsing dreams. Initially cluttered with a motley collection of chairs (many unoccupied), designer Hildegard Bechtler's raised, square dais of a stage slowly empties, until only an untouched and unused upright piano languishes in the corner. This Three Sisters is about wanting and never getting – three women wanting to live in a far-off city, where they can achieve their dreams and love unrestrainedly. And in the corner, a piano, promising to be played, never makes a sound.