Review: Dance Nation (Almeida)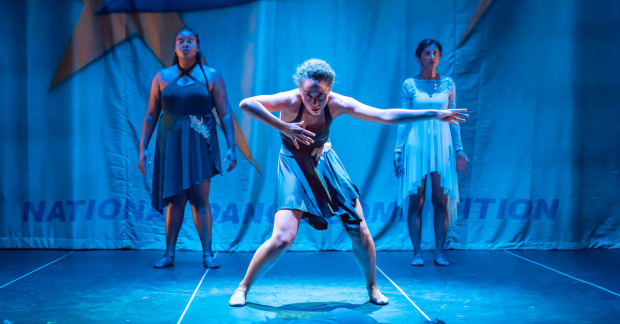 If you thought Billy Elliot had problems, wait until you see the teeny boppers of Clare Barron's Dance Nation. Following a competitive dance troupe of 13 year-old American girls on their journey to national finals, it lays bare the twisted horrors and extreme pressures of female adolescence. One by one, these brilliant, brittle young women buckle, and it's quietly devastating to watch.
Played by a cast of adult women – twentysomethings to fiftysomethings – a team of semi-innocent, wholly-impressionable pre-teens is ruthlessly drilled by its middle-aged male coach, Dance Teacher Pat. Brendan Cowell has him ruling over them like a pot-bellied, power-crazed camp guard, until he becomes the single biggest influence on their lives – and a helluva destructive one at that. He selects the star turns. He snipes at their missteps. He drums home the idea that failure's not an option, and the girls bark orders back at him like soldiers. Art, here, isn't just a competitive sport. It's war – and the victor takes the spoils. Trophies glint around the edges of Samal Blak's mirrored stage.
Dance Nation turns a kids dance contest into the sharp end of the American Dream. If success could lead to stardom, anything less is oblivion. On that front, the play's cut-throat – one young dancer slips in scene one, mangling her knee, and is never seen again – and that interminable pressure does immeasurable harm. It warps these girls' worldviews and pits BFFs as rivals. Gawky Zuzu (Ria Zmitrowicz, just perfect) cuts ties with the team's talent Amina (Karla Crome) until one goes cross-eyed with drive and the other chews chunks out of her arm.
It's all sorts of galling. Amidst all the confusion and contradictions of adolescence itself – Manjinder Virk's Connie clutches her lucky toy horse while Sarah Hadland's Sofia trades masturbation tips – Barron shows young girls bearing the brunt of patriarchal forces before they've built the emotional exoskeletons to stave it off. The fruits of feminism have taught them they could achieve anything, even as they're cut down by a myriad of subtler snipes and social norms. They worship Dance Teacher Pat, even as he grinds them down and pats their behinds, and if they're aware of their (sexual) power – morphing into fanged wolves and witches – it's driven out of them with military rigour. The tragedy is what's lost: the utopian spirit, sisterly care and dreamy creativity of girlhood.
Formally, Barron's play is as muddled as its subject matter, always bursting the banks of its central story to shoot into confessional solos, fantasy sequences and future selves. Aline David's dance routines swing from fluttering innocence to MTV raunch. Like teenagers, it's too full of feeling to tie neatly together. Just as impressionable too, twisting teen movie tropes –Bring It On, in particular – out of shape with Showgirls moments and flickers of The Craft. It carries theatrical influences too, Annie Baker and Anne Washburn, like the playwriting equivalent of a teenage scrapbook.
Bijan Sheibani's beautifully acted production sometimes plays it too safe, shirking the challenges of a text written in block caps rants and outsized font splurges. What it loses in wildness, it makes up for in care and its intimate moments – a shared sugar-fuelled potion, a secret given as a gift – are so tender and brittle they just about break your heart. If this is where girl power's gotten us, something's gone wrong.