Review: The Messiah (The Other Palace)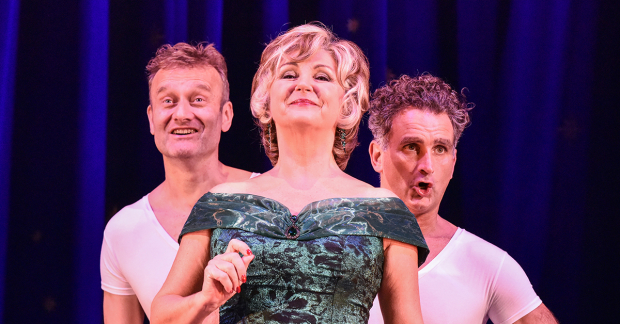 I pity any unsuspecting soul going to this and expecting Handel's "Messiah" (although we ARE treated to a bracing blast of the "Hallelujah Chorus" from that oratorio courtesy of a glammed-up and indeed winged-up Lesley Garrett). Patrick Barlow's comic confection, first seen under the aegis of his National Theatre of Brent back in the early 1980s, is a likeable, scattershot re-telling of the nativity tale performed by self-aggrandising luvvie Maurice Rose (Hugh Dennis) and his vacant but intermittently insightful sidekick Ronald Bream (John Marquez, adorable). It's absolutely nuts.
Reminiscent at times of Barlow's long-running comic reduction of The 39 Steps, the overall tone of the show is like those sketches Morecambe and Wise used to do at the end of their TV Christmas Specials, always with a discomfited celebrity in undignified attendance (in this case Garrett's game, archer-than-the-Admiralty Grande Dame, Mrs Leonora Fflyte).
The main problem is that where those sketches lasted 15 minutes at the most, this jokey piece is stretched out to a full two hours in the theatre, and the strain starts to show, especially in an over-long second half. At one point, Leonora (or "Mrs F" as the feckless Bream keeps addressing her) comes on to ask if they can just finish the show as she has a train to catch, and, to be honest, I agreed with her.
For those of us old enough to remember, the shadows of original National Theatre of Brent performers Jim Broadbent, Julian Hough, John Ramm and Barlow himself hang heavy over the (slightly) reinvented roles taken by Dennis and Marquez here. Good as they are – and Marquez in particular is often inspired, turning gormlessness into an art form – there is a sense of watching a very fine replacement cast delivering material that worked like gangbusters with the first company. What was probably once hilarious now comes off as nicely amusing.
There's a cosy, bygone feel that may prove too gentle for a younger audience, while up-to-date references to Call The Midwife and Brexit feel a little shoehorned-in. Having "Mrs F" stationed on a gilt throne at the side of the stage for much of the show feels like an unnecessary pull of focus from the main storytelling, bonkers as it is.
However, some of it IS very funny, Francis O'Connor provides an attractively monumental revolving set, and it is always a pleasure to hear a voice of the quality of Garrett's in an intimate setting. Dennis and Marquez crucially understand that good comedy comes out of a place of great seriousness, and they're seldom funnier than when Rose and Bream are at their most upset or fed-up.
There are certainly worse ways of spending a pre- or post-Christmas evening.