Review: The Importance of Being Earnest (Vaudeville Theatre)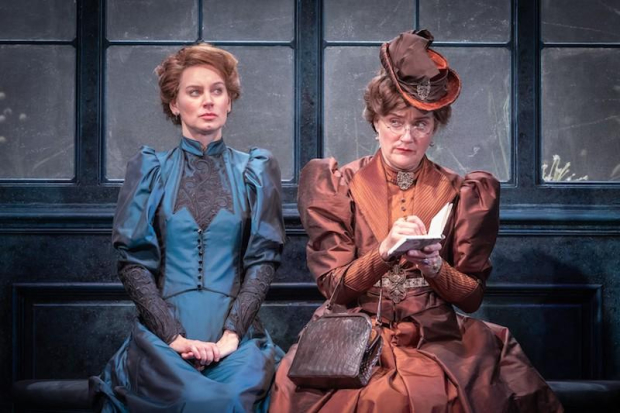 Think you know Wilde's masterpiece? Get to the Vaudeville where Michael Fentiman's sexy, dark-hued but fresh take on The Importance Of Being Earnest brings the Classic Spring Company's year-long Oscar Wilde season to an enthralling, er, climax. You may end up perceiving this well-worn text in a different light.
It would be more accurate to call this a 'revisal' than a revival since Fentiman's version interpolates, to telling effect, lines from the seldom-seen four act edition of Wilde's masterpiece, and brings the gay subtext out into the semi-light. Fentiman helmed last year's triumphant re-thinking of Orton's Loot at the Park and brings a similar unrestrained playfulness and fierce intelligence to bear on this 'Trivial Comedy for Serious People'. It's a bold approach that might prove divisive.
Sex is everywhere: note the erotically charged way Pippa Nixon's gorgeously funny Gwendolen prostates herself across a grand piano or forces food into sometimes unwilling mouths at moments of high stress, or the furtive ciggie shared between Cecily (Fiona Button, joyous) and Tim Gibson's hunky gardener, like some youthful precursor to the Lady Chatterley saga. Society swells Jack and Algernon (gloriously embodied by Jacob Fortune-Lloyd and Fehinti Balogun respectively) contrast more sharply then ever before: Balogun's sensual bi-sexual Algy is louche, reckless and sexy as hell while Fortune-Lloyd's über-neurotic Jack makes ongoingly suppressed fury into something hilarious and beguiling. Yet one still sees why these eccentric young men are best mates. The all-seeing domestic staff make more of an impact than usual with Geoffrey Freshwater's wonderfully knowing manservant Lane and Matt Crosby's oddly touching, inappropriately named Merriman almost stealing their respective scenes.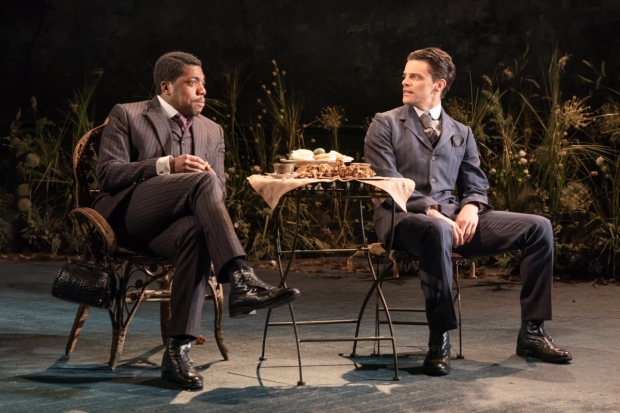 The absence of sex may be responsible for the sudden outbreaks of vicious physicality displayed by Sophie Thompson's unusually youthful Lady Bracknell, tethered forever to an unseen, invalided spouse, weighed down with being surrounded endlessly by everybody else's erotic possibilities, and taking it out on a random piano lid or some unruly garden undergrowth. She remints the role, giving us a brittle, rueful Grande Dame, all too aware everybody around her is on the point of getting 'it' while she is forever trapped in an unsatisfactory union and that her rampant, whip-smart daughter is about to flee the gilded cage forever.
All of this swooning sensuality might have unbalanced a comedy that, for all its melancholic intimations of the double lives some people are forced to lead in order to achieve fulfilment, is held up as a masterpiece of sparkling wit. That this does not happen is partly due to a fearsomely rigorous approach to the speaking of the text – every line, every rhythm is given due care without ever sounding laboured – and partly because, ultimately, it's absolutely hilarious. By acknowledging that almost every epigrammatic witticism in the text is an inversion of 'real' life, Fentiman and his team – Madeleine Girling's painterly sets are gorgeous, as are Gabriella Slade's opulent costumes – have created an off-kilter, only tangentially familiar world where normal rules don't apply, and in doing so they have illuminated Wilde's brilliant piece.
The inspired, surrealist lunacy of the comic lines and plot twists is underpinned by a haunting performance in an unexpected role: Stella Gonet's Miss Prism – the uptight tutor with a murky past and unspoken affection for the local vicar – isn't played for laughs, and utterly convinces both in her denunciation of the immorality of others, and her catatonic fear when abruptly reunited with Lady B. She breaks your heart, and helps to turn an outrageous evening into a surprisingly satisfying one. As the enraptured country cleric who adores her, Jeremy Swift hits all the right notes.
This is an Earnest that will likely infuriate as many people as it delights. It's witty, earthy and subversive, both honouring the text and throwing fresh ideas at it. I didn't think I needed to see this play again, but I was so happy to encounter this thrilling new approach which – for all the period trappings – make Earnest feel new and vital. Unforgettable, life-enhancing, and with an edge of surprise.