Review: An Ideal Husband (Vaudeville Theatre)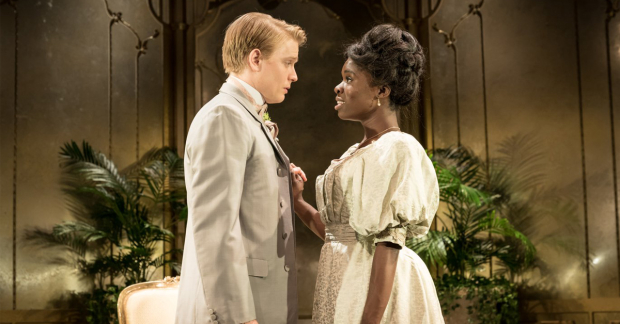 While The Importance Of Being Earnest is generally perceived as Oscar Wilde's most loved work, Jonathan Church's fine new production of An Ideal Husband – the latest, and best so far, in the year-long Classic Spring season at the Vaudeville – makes a convincing case that this is the more interesting play. With its themes of public success versus private morality, corruption, blackmail and marital trust, the piece could scarcely feel more modern, despite the witticisms, elevated language and period trappings.
Church's is the first version of the play I've seen where the different genres it alights upon stylistically – drawing room comedy, melodrama, romance, morality play, even farce – meld together with complete success to create a golden, satisfying whole. While the delicious wit is given full measure ("I always pass on good advice. It is the only thing to do with it"), the actors always sound as though heart, head and mouth are fully and simultaneously engaged, so it's real people talking and not just an ongoing fountain of brilliant epigrams, as can sometimes happen in lesser Wilde productions. This proves especially beneficial when the script takes on a darker hue: note the palpable anguish in the scene where the impossibly upstanding Lady Chiltern realises her husband isn't the paragon she imagined him to be, or the shocking ferocity with which blackmailer Mrs Cheveley reacts when cornered. The switches from high comedy to high stakes are magnificently done.
Another plus is that we as an audience care more than usual that Freddie Fox's incorrigible dandy-about-town Lord Goring gets together with Faith Omole's sparkling Mabel Chiltern. The look of utter hopelessness on Fox's face when his suit is at first rejected is genuinely affecting. The 'realness' of the performances also means that if something goes wrong – on press night a letter failed to burn on cue at a vital plot point – the actors can improvise around it seamlessly (Fox and Frances Barber acquitted themselves with aplomb.)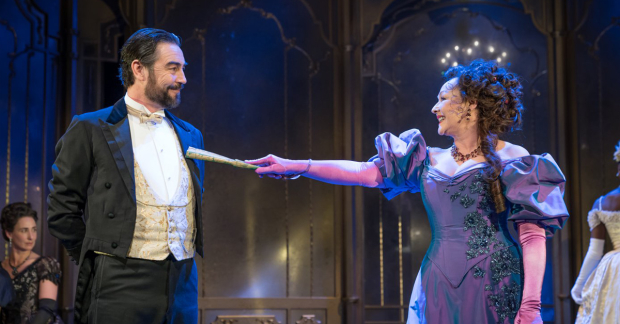 The acting has everything to do with the success of this staging, and Church and his casting director Gabrielle Dawes have assembled a terrific team. There is a special pleasure in watching real-life father and son Edward and Freddie Fox playing fictional père et fils the Earl of Caversham and Lord Goring: their exasperated, affectionate scenes together in the second half are blissful. Susan Hampshire is an oddly touching comic delight as garrulous Lady Markby.
Although he looks a little youthful and angelic to fully convince as the vain, flamboyant Goring, Freddie Fox is in every other way a sensation. His comic timing and vocal delivery are flawless, but he is also credible as a sexy, wayward but essentially good-hearted product of privilege. His (unscripted) posing in front of a mirror trying on various attitudes for size before a night out as Tim Wallers' gloriously sardonic manservant looks on, is a masterpiece of cheeky charm.
At first, I wondered if Barber's gorgeous Laura Cheveley wasn't pushing the fruity-voiced vivacity a little hard but it becomes clear when this vengeful, financially ambitious schemer lets her guard down, in a confrontation scene of unexpectedly alarming intensity, that this is a calculated persona masking a surprising amount of desperation and hatred. While it's thrilling to watch Barber switch between snarling and smiling, charm and threat, it's also impossible not to wonder what the life options seriously would have been for a woman going solo in the late 1800s.
In the pivotal but less flamboyant roles of the embattled Chilterns, Nathaniel Parker and Sally Bretton are superb. If Bretton reads as a little young to have been at school with Barber's Cheveley, she is riveting in the marital slanging match that closes the first half, both actors conveying a level of raw pain that one wouldn't necessarily expect to encounter in an evening of Wilde.
Simon Higlett's sumptuous designs and Howard Harrison's ravishing lighting contribute immeasurably to a thought-provoking, richly enjoyable production that subtly, dynamically re-mints a classic text. Enthusiastically recommended.