Review: Seussical the Musical (Southwark Playhouse)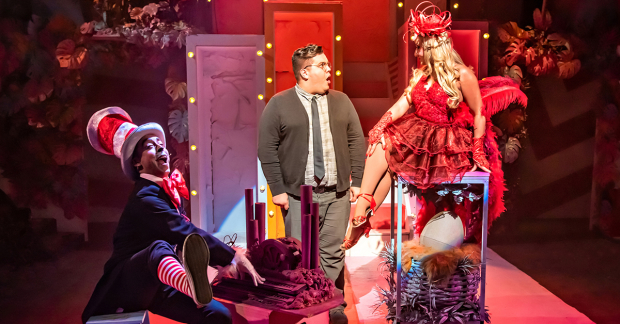 I've never much liked the rhyming writings of Dr Seuss, and so was slightly dreading the idea of his characters being turned into a musical family entertainment. But by the end of this production, I longed for more of the acerbic tone of the author of The Cat in the Hat and Green Eggs and Ham, and slightly less of the saccharine songs of Stephen Flaherty and Lynn Ahrens. Which is a triumph of some sort?
The good things in this intermingling of Seuss's stories – based on an idea from Eric Idle – get lost in a production that is noisy rather than incisive and muddled where it should be precise. Nothing was much helped by a sound balance which, particularly in the early stages of the press night, all but obliterated the wit of the words and the sense of what plot there is.
The action centres on Horton, the misunderstood elephant, who is mocked for his belief that a dust speck contains a world of little people called the Whos, and his determination to protect them because "a person's a person no matter how small." His isolation becomes worse when he agrees to sit on an egg for flouncy Mayzie La Bird, who promptly waltzes off to Palm Beach, leaving him alone.
The original Seussical opened on Broadway in 2000 and had its fans, but it was judged a sprawling, messy affair. The pared-down version, however, has enjoyed considerable success. But this production for Immersion Theatre lacks focus. Director James Tobias has decided to underline the obvious morals of this tale (about respect for the outsider, the evil of bullies, the importance of loyalty and self-belief) by making Horton (Scott Paige) just a bloke in jeans while those around him bear more resemblance to the creations of Seuss (also known as Theodor Geisel). In particular, there's a mischievous Cat in a Hat (Marc Pickering) who slinks in and out of the action to excellent comic effect.
You could do with more of him, and his knowing playing around with character and rhyme. One of the most dismaying things about the songs is just how soupy and syrupy they are; Seuss's sharpness and primary colour acidity is lost in a sea of sentiment.
There are some compensations. The set by Justin Williams and Jonny Rust, and costumes by Rachel Cartlidge are attractively colourful; Chris Whittaker's choreography is lively and efficient. Amy Perry has her moments as the unhappy Gertrude, a bird who longs for a flamboyant tail and for Horton, and Katie Paine as Mayzie La Bird has the show's best moment when she sings a sultry number about being left holding an egg.
But generally, there's a lot of energy and not much impact, and the show's 75-minutes running time felt drawn out. There's not quite enough silliness for the kids, nor enough sophistication for the grown-ups and the whole thing feels well-meant but disappointing