Review: The Trench (Southwark Playhouse)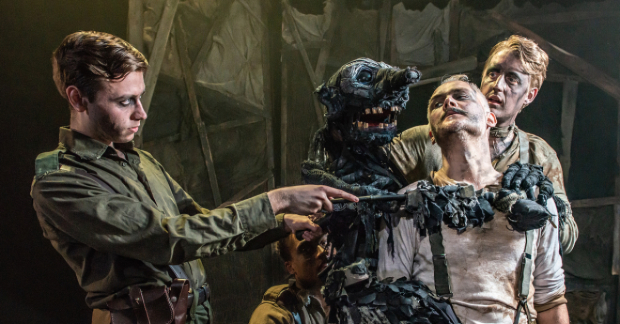 War is a very particular kind of hell in Les Enfants Terribles' The Trench, which has its London premiere at Southwark Playhouse six years on from its original debut at the Edinburgh Fringe.
A strange yet enthralling blend between First World War drama and classics inspired journey into the fantastical, The Trench sees beleaguered Western Front miner Bert (inspired by real-life combatant William Hackett) who burrows deep beneath no man's land to fight a subterranean war in a world where buried bombs could be lurking around any corner. From there the show takes a surreal, Pan's Labyrinth-esque turn into the mystic – various hooved and fanged creatures extricating themselves from the mud and soggy wood of the trenches to haunt Bert's subterranean odyssey.
As per usual for any Les Enfants Terribles show, the production values are superb. Samuel Wyer's panoply of garish puppets are all visually arresting, handled succinctly by the cast of four as Bert continues his exploration of the underworld. There are some fantastic bits of innovation and quirks to the set – an accordion housed within an ammunition crate being particularly inventive. Presented in a flat, end-on staging, it's hard not to get swallowed up by the haze-fuelled murkiness of the dank hellscape. Towards the end of the show, Peter Fennell and Timothy Kelly's lighting design also provide a series of hauntingly powerful images.
With more rhyming couplets than an A-Level Chaucer exam, writer Oliver Lansley (who also stars as Bert) brings his usual top-notch poeticism and lyrical turns to the production, evoking all the customary horrors of war. The text though, given the more morose subject matter, lacks the usual whimsy and formally-playful tone that defined other Les Enfants Terribles productions like The Terrible Infants or Alice's Adventures Underground. It means the energy sags, especially early on. The 65-minute experience, despite its stirring content, often feels empty and oddly dispassionate.
Performed live by composer Alexander Wolfe to the side of the stage, the piece's soundtrack channels everything good about Elbow to create a stirring, melancholic underscore, especially in the lower-tempo moments.
Alongside Lansley there are some assured performances from Kadell Herida as Bert's fellow conscript, while James Hastings and Edward Cartwright flesh out the ensemble and create all the relevant creatures. Certainly, a well-thought-out piece of programming for Southwark Playhouse to coincide with the Armistice centenary, The Trench carries a heartfelt, pathos-filled message. But it just doesn't quite hit the mark.