Seussical the Musical at Southwark Playhouse: first look photos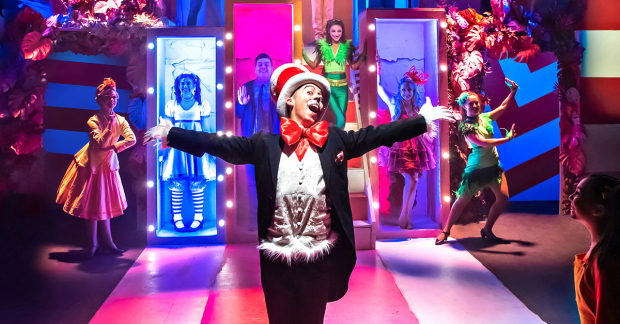 Production images have been released for the upcoming revival of Seussical the Musical at Southwark Playhouse.
Marc Pickering (Boardwalk Empire) stars as the Cat in the Hat, joined by Scott Paige (Eugenius!) as Horton the Elephant and Amy Perry (Thoroughly Modern Millie) as Gertrude McFuzz.
Katie Paine (We Will Rock You) plays Mayzie La Bird alongside Ngozi Ugoh (The Book of Mormon) who plays Sour Kangaroo and Anna Barnes (Cats) who plays Jojo. The cast is completed by Daisy Steere (42nd Street), Adam Dawson (Spring Awakening), Robbie Fell (Song), Rhys Benjamin (Bring It On), Marianna Neofitou (Grease) and Sarah Spence (9 to 5 The Musical).
Co-conceived by Monty Python's Eric Idle – who played the Cat in the Hat in the show's pre-Broadway tryout – Lynn Ahrens and Stephen Flaherty's musical is based on the children's stories of Dr Seuss, including Horton Hears a Who!.
It debuted on Broadway in 2000 and at the Arts Theatre in the West End in 2012. The Southwark Playhouse revival is directed by James Tobias, choreographed by Chris Whittaker, designed by Justin Williams and Jonny Rust, has costumes by Rachel Cartlidge, musically directed by James Doughty with sound by Nico Menghini.
You can watch the live stream we recorded from the Seussical the Musical rehearsal room below: