Review: My White Best Friend (And Other Letters Left Unsaid) (Bunker Theatre)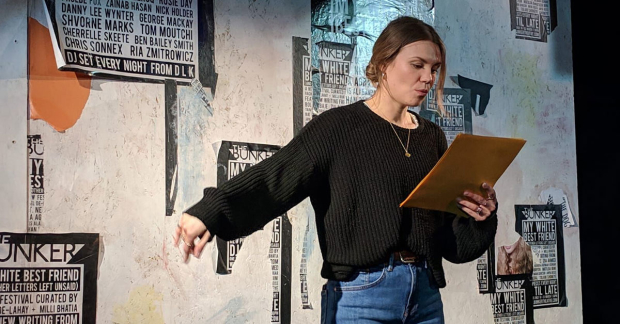 The Bunker's space has been transformed. We're given wristbands instead of tickets, there's standing room only, with a DJ and bar, and the space feels more like an open mic night than an evening at the theatre. It is more open, more comfortable. Neon lights blaze and there's a countdown to the next reading.
My White Best Friend (And Other Letters Left Unsaid) is a week curated by Rachel De-Lahay and Milli Bhatia, and sees a series of actors read newly penned letters for the first time. The letters prominently discuss race and class, with the act of letter-writing itself used in a provocative and surprisingly intimate way.
The first letter of the evening, the titular one, is written by De-Lahay and read by Inès de Clercq. It details the conversations a black person can never have with their white best friend. The conversations that are left unsaid; about politics and power and support. De-Lahay's letter asks that the audience is reshuffled, so queer, black, and brown women are front and centre, and white men are at the back. This reconfiguration splits friends up, but is a welcome change, ensuring the letter is directly spoken to those who it is most for. It is beautifully written; brutal, honest, sometimes funny. Throughout – and throughout the evening – there's murmurs of agreement.
Second up is record producer Jammz's letters, whose letter from Steff, as well his own response, is performed by Ben Bailey Smith (also known as Doc Brown). It's short, written with a rhythm and Smith half-raps the piece. Hearing both a letter and its response feels more heart-wrenching, more complete.
The final untitled letter, written by Zia Ahmed, sees Zainab Hasan reading out a series of cards. There's quotes from parliament, a mockery of 'good brown' comedians, and a dinner where an Asian family tries bland English dishes. Hasan's charm is infectious. We laugh along with her as she makes her way through the letter, often commenting on the text as she takes in what she's reading for the first time. The final portion of the letter leaves the room silent, as Hasan reads about how Ahmed is often mistaken as a kidnapper instead of a nanny. Again, the room is split: working class towards the front.
My White Best Friend… is everything theatre should aim to be. Provocative, engaging, and a space where the audience are relaxed and free to roam. De-Lahay and Bhatia have curated a brilliant series. Other venues, take note.